Shortbread For Guests
I use this shortbread recipe to make biscuits as a welcome gift to people who are staying in my holiday lets and B&B (currently closed).
They have given rise to many lovely comments in the guest visitor books as well as reviews on Airbnb and other booking websites. So I am encouraged to continue to make them. Returning visitors have even checked with me that they will be available!
So they are a good recipe – and simple to make too!
Shortbread is a traditional Scottish biscuit. Guests here on holiday enjoy these home made shortbread biscuits
Origins Of Shortbread
Shortbread originated in Scotland so Wikipedia tells me, comprising one part sugar, two parts butter and three parts flour. This recipe does roughly conform to those proportions. Guests coming from all over the world enjoy some traditional Scottish Fayre.
I do not make them in the traditional Scottish shape (oblong or petticoat tails) but give them my own flourish, by imprinting each one with lots of small hearts and one large one. I hope this helps to convey that I care about my guests! I bought the stamp from a shop in Stirling but you can get cookie stamps online.
Made With Butter And Cornflour
Shortbread is traditionally made with butter and I do think it gives the best texture and flavour. I use the slightly salted variety as a small amount of salt does improve the flavour. Some shortbread is made with rice flour but I find that too grainy so I prefer to use a mix of plain flour and cornflour as it gives a smoother and more crumbly texture.
Softening Butter
When the butter is not soft enough I cut it into small chunks and put in my mixing bowl and into the oven as the oven is heating up from cold. This softens the butter nicely – I just need to be careful I don't end up with melted butter
I use an electric whisk to mix the biscuits – it makes it very easy and ensures all the ingredients are thoroughly blended. You will need cookie cutters and a large baking tray, lined with parchment or a baking sheet and a cookie stamp if you want to add a heart or something else. The silicone baking sheets are really good as you can use them over and over again – and no need to grease!
More Biscuit Recipes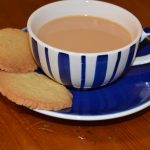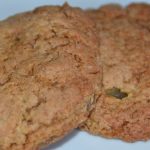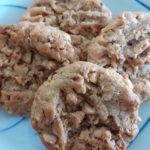 Makes 20-25 Biscuits
Shortbread Biscuit Recipe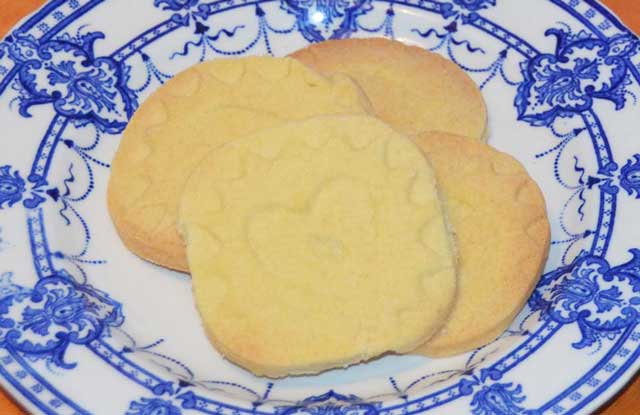 Ingredients
225g

Butter, softened

110g

Caster Sugar

110g

Cornflour

225g

Plain flour
Cooking Directions
Preheat the oven to 180 degrees C
Prepare a large baking sheet, lined with baking parchment or baking sheet
In a large mixing bowl, cut the butter into small pieces
Add the sugar
Cream together the sugar and butter with a wooden sppon or electric whisk
Add both the flours
Whisk until the flour is mixed and it looks a bit like a crumble mix
With your hands, draw the mixture together into a large smooth dough
Roll out on a floured surface
Cut out shapes as required and place on the baking sheet with a small gap in between biscuits
Gather up the offcuts and press back into a dough
Re roll out and cut out pieces
Repeat until all dough is used up
Use cookie stamps to make shapes as desired
Bake in the oven for 13 minutes
Remove from oven and leave to cool and harden for 10 minutes or so
Carefully transfer to a cooling rack
Once cool, keep in an air tight container