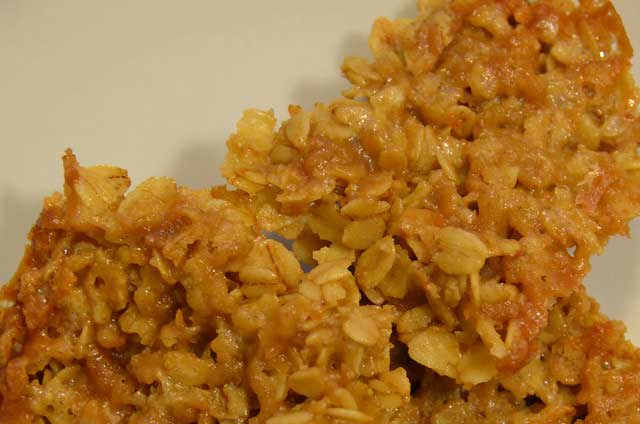 Easy Gluten Free Oat Biscuit Recipes
Baking biscuits can be so easy and its a fun way to introduce children to cooking too. These oat biscuits are really quick and easy to make and as they are made just with oats (no flour) they are suitable for people on a wheat free diet. They are like a cross between oaty biscuits and flapjacks.
These biscuits can be prepared in minutes. Simple and delicious they are a real treat with a cup of tea or a lovely addition to the lunch box
They can be made in 20 minutes so can be put together quickly if you have some unexpected guests.
Make with butter for a really buttery taste, but they will work well with margarine, if you want to keep the cost down.
Tasty Biscuits
I made these biscuits for an event I was attending to help supply refreshments.
They were very popular (there were non left at the end!) and several people commented on how good they were. Pretty good for something with only three ingredients and only minutes to make!
These biscuits would also be a good standby to add something to the lunch box or for a small extra to have with a cup of tea! Simple biscuits such as these biscuits or shortbread are such a simple pleasure!
Tips For Cooking Oaty Biscuits
You will need a baking tray approx 11″ x 7″
. This is a standard sized tin, useful for flapjacks, biscuits and general baking
Even if a tin is non stick I tend to line it with baking parchment or you can also buy a Reusable Teflon Cooking Mat
. This allows the contents to be easily lifted out of the tin and there is no chance of sticking.
You can of course just grease the baking tin well.
These biscuits need to be cooked for about 15 minutes, until they are golden brown. When you first take them out of the oven, they will be very soft still. Gently divide the biscuits into twelve with a knife and then leave alone to cool and go hard – don't try to move them too soon.
More Oat Biscuits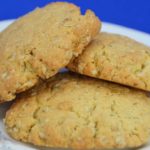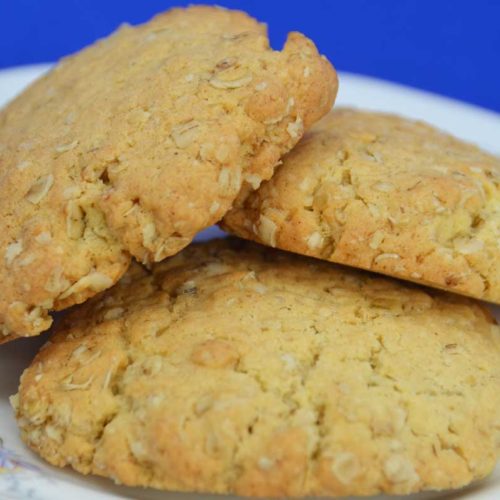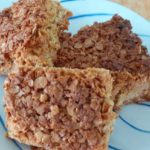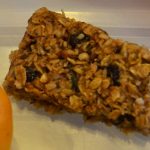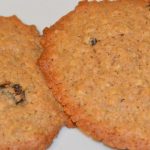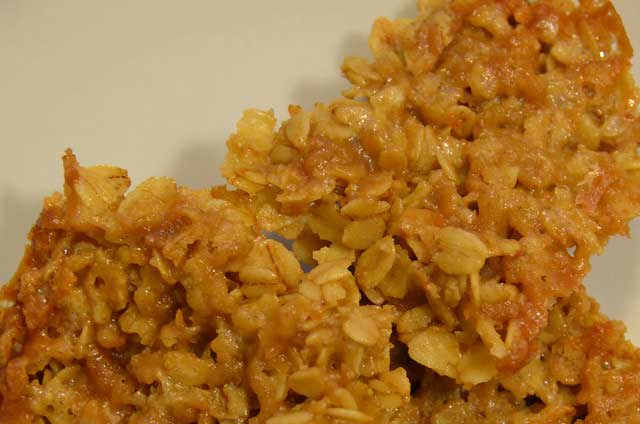 Easy Oaty Biscuits
Ingredients
125

g

porridge oats

110

g

butter or margarine

75

g

sugar
Instructions
Pre-heat the oven to 180 degrees C

Line a baking tray or grease

Melt the butter gently in a saucepan

Remove from heat

Mix in the sugar

Mix in the oats

Press the mixture evenly into the tin

Bake in the oven for 15 minutes or until golden brown

Remove from the oven and score into 12 pieces

Leave to cool

Remove from tin and consume or store in an air tight container