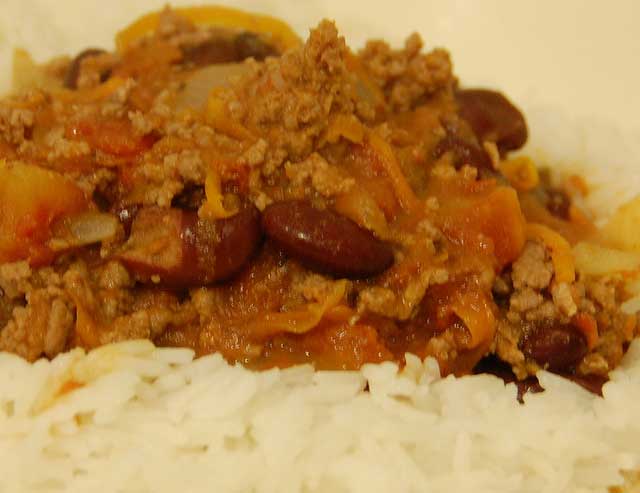 Chilli con Carne – Easy Supper dish
Chilli con Carne is an easy to make, traditional supper dish that can be adapted to individual tastes. Just a few simple ingredients are needed for the basic recipe but you can have extra flourishes added if desired.
It's a great to make a huge pot that can be used up over a few days – with rice, with salad, with crusty bread or with a baked potato. And it freezes well. Fabulous as a mid week supper or informal sharing meal with friends.
Although chilli con carne means 'chilli with meat' it is a dish that has been adapted to a vegetarian dish with soya mince or quorn as a meat substitute or perhaps lentils or even tofu. Chilli is an economical dish with few ingredients so is a great meal for a midweek supper.
Warming, hearty dish that is a delight to share with friends. Easily adaptable for different tastes – including vegetarians
Origins of this Well Known Chilli Dish
The origins of the use of beans in chilli may well have been because beans were used as a substitute for meat but the early recipes, do not contain them. The growth of chilli con carne in the US seems to have been along the cowboy trail in the 1850s where dried meat was re-hydrated and cooked up with onions and chilli to make a warming and substantial stew. The original chilli dish didn't contain tomatoes it seems.
Cubes of stewing beef might have been more common, but it is just as likely these days to be made with a good lean, mince beef. The name came from Spain and it does bear some resemblance to 'Spanish Stew' that ladies from the Canaries who came to America, were seen to be cooking. There is also evidence that the 'chilli Queens' of San Antonio in the 1880s sold a stew similar to chilli con carne on their stalls in the open air.
Student Days!
Whatever the origins, 'chilli' as the dish name is commonly shortened to, is now a staple of the UK and American diet. Cooking up a large chilli con carne is often what I will do if friends are coming for supper. It reminds me as well of my student days when there was some rivalry to see who could make the best (ie hottest but edible!) chilli – and may be some competition as to who had the most stamina to eat a really hot chilli!
Adaptable Recipe
However as a friendly, warming dish it is hard to beat. People may differ as to what makes the perfect chilli and there is nothing wrong with trying some new ways with the dish. Nigella Lawson adds cocoa powder to hers and tops it with cornbread and others add sugar or chorizo – but is this just a quest to be different? I like to keep things as simple as possible, so this is my favourite way of cooking chilli con carne. Plenty of garlic, tomato and of course, chilli. I add grated carrot for sweetness and to increase the vegetable content too. A sprinkling of mixed herbs adds a bit of flavour too.
I like it served with basmati rice or a baked potato and a sprinkling of cheese is always good too. A dollop of sour cream is sometimes added especially if accompanied by tortillas. My son likes to add some drops of soy sauce when it is served to him. I wonder if anyone else likes that?
Chilli Heat
Bean Chilli Recipe or
Chilli Chickpea Stew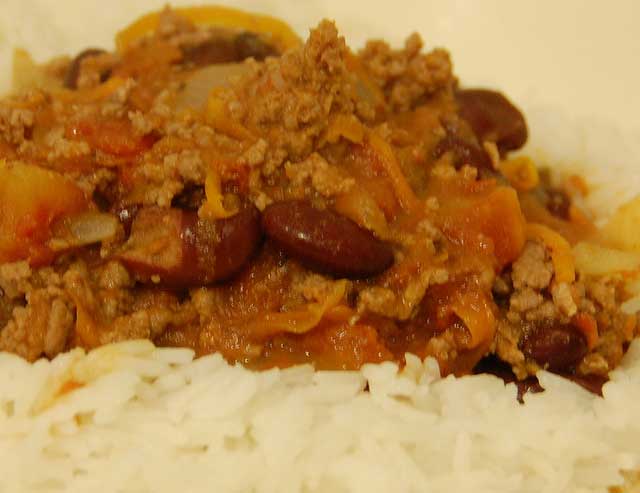 Chilli con Carne Recipe
Ingredients
2

tablespoons

vegetable oil

1

large

onion

3

garlic cloves

peeled and crushed

500

g

lean beef mince

400

g

tin chopped tomatoes

1

medium

chilli

deseeded and chopped

1

teaspoon

mixed herbs

1

large

carrot

grated

400

g

can kidney beans

drained
Instructions
Heat the oil in a pan and add the onions, cooking until soft

Add the meat and garlic and cook for 5 minutes, stirring occasionally, until brown

Add the chillies or chilli or cayenne pepper powder, tomatoes and herbs

Add the carrots and kidney beans

Stir and bring back to simmering point, cover and cook on a gentle heat for 30 minutes

Serve hot with rice or a baked potato