Cauliflower And Fennel
Autumn means cauliflowers come into season and fennel is plentiful too. There are so many recipes for cauliflower – much beyond cauliflower cheese! Cauliflower cheese is good just as it is but I look for other cauliflower recipes to make full use of this available vegetable.
I have also recently discovered I love fennel and somehow I had an idea that the two might go together really well. So I had a look around the internet for some ideas – and discovered I wasn't the only one who thought cauliflower and fennel might make rather good taste companions. I combined a few ideas to make this easy recipe for a delicious midweek supper.
An interesting and easy recipe for cauliflower and fennel, being an adaptation of cauliflower cheese – perfect for the colder months
Cauliflower Cheese And More!
Cauliflower is an underrated vegetable and there is so much more to it than being a side vegetable or a main dish served in a cheese sauce. It is lovely in soups, curries and casseroles. This recipe is an adaptation of cauliflower cheese with lots of extra delightful texture and flavour. Still really simple to do – and very low cost but with extra va va voom!
Fennel
People have cooked with fennel since ancient times but it is currently perhaps better known amongst people who buy their vegetables from local producers than from supermarkets. Riverford and local veg box schemes like Shillingford near Exeter have done much to improve its profile. It may be that people don't like it on its own or as a side vegetable, but it's great to flavour food.
Fennel has a kind of aniseed flavour – but is so much softer – and sweeter than that sounds. It's quite subtle and has different layers of soft flavour. I am not sure that I would eat it on its own. I am enjoying experimenting with this vegetable which is new to me. I loved the soup I made and I have also had it with courgettes, pine nuts and pasta
Easy Recipe For Supper
This recipe takes only about 10 minutes to prepare and then goes in the oven for about 30 minutes. I served it with some runner beans but you can serve with any green vegetable. I always quite like frozen peas (cooked obviously) with cauliflower cheese recipes. It think its because I peas and cheese go very well together. One of my favourite standby – meals when I can't really be bothered to cook is pasta with peas and cheese and I also love mutter paneer – the Indian vegetable dish made with Indian cheese.
I used a red onion to add a bit of colour, but you can use a white onion if it is what you happen to have. The cheese sauce is made by the Delia 'all in one' method. Just ensure you keep stirring to mix the ingredients with a wooden spoon or balloon whisk, to ensure a smooth sauce. Keep the heat medium so it doesn't burn or go lumpy.
Cauliflower, Fennel And Potato Cheese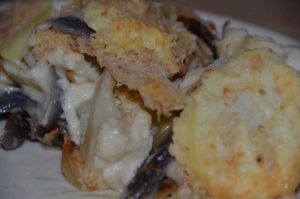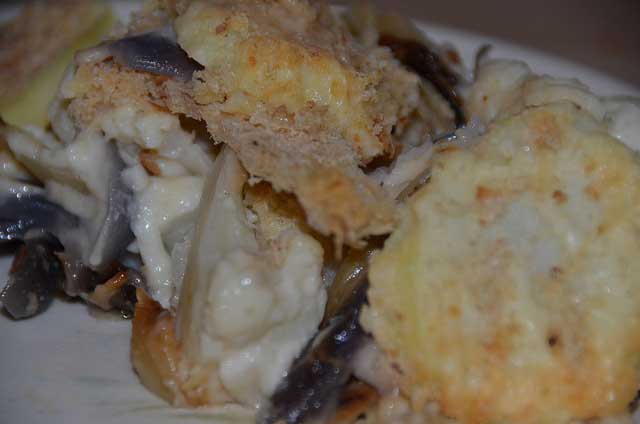 Prep time: 10 minutes
Cook time: 30 minutes
Total time: 40 minutes
Ingredients
1 tablespoon

olive oil

1

red onion, peeled and chopped

2 cloves

garlic, peeled and chopped

1

fennel bulb, sliced

1 medium

cauliflower, separated into small florets

2-3 medium potatoes

peeled and sliced

100g

mature cheddar cheese, grated

300ml

milk

1 heaped dessertspoon

plain flour

knob

of butter

2 tablespoons

fresh breadcrumbs
Cooking Directions
Preheat the oven to 180 degrees C
In a large frying pan, heat the olive oil
Add the fennel and onion and start to gently cook
Add the garlic
Cook for about 10 minutes, stirring occasionally
Meanwhile place the potato slices in boiling water and simmer for 10 minutes
Steam the cauliflower, ideally over the potato slices.
In a small saucepan, place the milk, flour and butter
Gently heat and bring to the boil, stirring all the time
Once thickened, add the grated cheese saving one tablespoon
Place the onion, fennel, garlic and cauliflower in a casserole and stir to mix
Pour the cheese sauce over
Arrange the potato slices on the top
Sprinkle with remaining cheese
Sprinkle with breadcrumbs
Bake in the oven for about 30 minutes