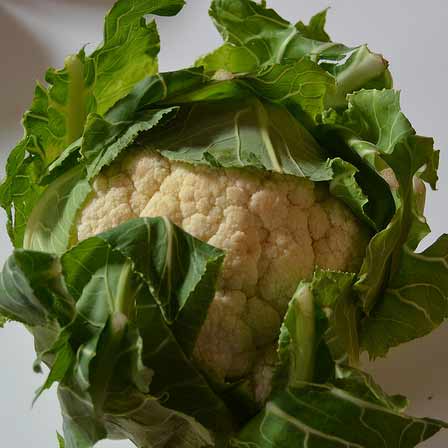 Magnificent Cauliflower
Cauliflowers are plentiful most of the year round and sometimes grow quite large. There are so many ways to cook cauliflower – much beyond the traditional Cauliflower Cheese – tasty, though that is, of course. The only thing that can really go wrong when cooking cauliflower is to cook it for too long so it ends up mushy and suffers lack of flavour.
The cauliflower is a type of cabbage – or as Mark Twain said – A cauliflower is nothing but a cabbage with a college education. Cauliflowers have been with us for hundreds of years and has been eaten in Great Britain since the 1600s.
Cauliflower may well be underrated by some, but it is delicious on its own, as a main meal, in soup or just as a lovely vegetable with a main course
How To Cook A Cauliflower
Boil, steam, stirfry or roast the cauliflower is open to all cooking methods. It can then be served as a vegetable alongside a main course dish. There are however several meals where the cauliflower takes centre stage, such as Cauliflower Pilau. I have even used cauliflower to make a pizza base!
How Long To cook Cauliflower
How long to cook cauliflower depends on how small you chop the florets, when you cut it apart and how soft you like your cauliflower but around 5 minutes is about right. Cook a little less if you like it more al dente. Check the cauliflower with a sharp knife frequently so you know when it is cooked to your liking. If you are preparing it for a dish requiring further cooking – such as Cauliflower Cheese – then cook a little less.
Boiling or Steaming Cauliflower
Prepare the cauliflower by cutting away the leaves and thick stem (if you are making a soup these can be added). Cut into small florets
Boil for 5 minutes or so until just soft or steam
Mashed cauliflower
Boil or steam cauliflower for 7 – 10 minutes until soft
Carlos Durban suggested mashing with butter, a little cream, salt and pepper to taste and may be cheese. Use as a side dish or as a topping to Shepherds pie instead of potato mash. What an excellent idea! This Cauliflower and Leek Mash is very good
Cauliflower in Soup
There is something comforting about plain cauliflower soup but I also love it with the tangy cheesiness of stilton. Cauliflower And Apple soup has proved to be a surprisingly popular recipe too!
Below is a simple recipe with pasta. Add your own flourishes with peppers or different cheeses, Nut meg and / or mustard stirred in can be good too!
Serves 4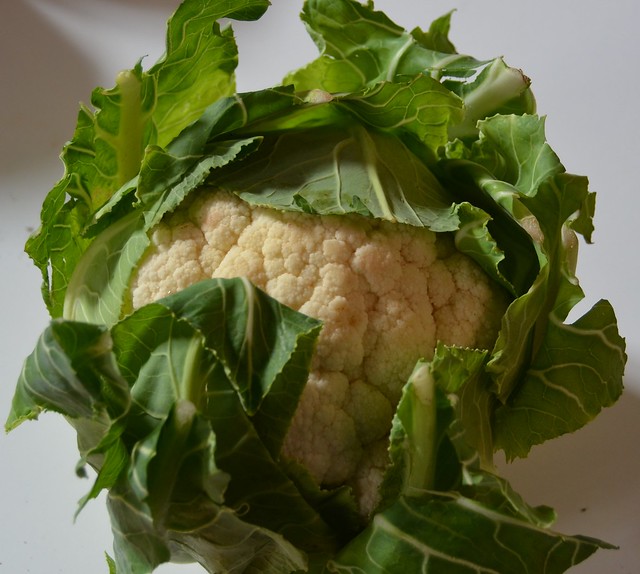 Spicy Cauliflower Pasta
Ingredients
1

cauliflower

350

g

penne pasta

3

tablespoons

olive oil

2

garlic cloves

1

chilli

seeded and chopped

85

g

pine nuts

50

g

sultanas

1

lemon

juice and zest, finely pared

50

g

parmesan, cheese

grated
Instructions
Cook the cauliflower in boiling water for 2 minutes

Drain and rinse in cold water to prevent further cooking

Cook the pasta in plenty of boiling water for 12-15 minutes

Meanwhile, heat the oil in a large frying pan

Add the cauliflower and fry for 3 minutes

Add the garlic, chilli, sultanas and pine nuts and cook for another 2-3 minutes

Add the pasta, lemon zest and juice and stir to mix well

Season with salt and pepper and toss together with the parmesan