Homemade Chilli Jam – Excellent Food Gift
This chilli jam is so easy to make! I love it when I find out that making some thing I might otherwise buy is easy to make. Like mincemeat, lemon curd and apple chutney. These are the kinds of things that if they are made with fresh real ingredients tend to be well packaged and sold at a premium as gift food.
This lovely chilli jam is easy to make,looks great, tastes delicious and makes a great gift. Lovely accompaniment to cheese and biscuits or savoury scones
This recipe makes four normal jars so you will have enough for yourself and some to give away for gifts. People are usually delighted to get a foodie gift – just make sure they are a chilli fan, first.
You can even have fun dressing up the jar a little with a pretty top cover, nice label and maybe a ribbon around it. You can buy jars for jam but I always save the empty jars from whenever I buy anything commercially in a jar
Recipe From A Fellow Food Blogger
This recipe is from Julie's blog Real Food Fans where she talks about her experiences buying from her local shops and avoiding the supermarket – or occasionally having to resort back to the supermarket.
She was inspired to make this jam after tasting it at a local cafe. It is good when you taste something that just makes you want to try making it your self. This can be use with savoury dishes including cheese scones. It sounded so good I couldn't wait to try it!
Easy To Cook – Careful With Chillies
It is very easy to cook. Just lots of chopping of chillies and peppers. Don't forget to wash you hands well after chopping chillies and remember not to touch your eyes!
Put the jars in the oven to sterilise before you start. Wash them in soapy water nad put them in a preheated oven at about 120 degrees C for about 15 minutes. Remember to use oven gloves to remove them from the oven – obvious I know, but easy to forget!
After the chopping it only takes about 10 minutes to be ready to place in jars. It is best to let it cool a for a good few minutes before it goes in the jars. Until it starts to set a little the chillies and peppers tend to float to the top so I stirred the jam when it was in the jars until it cooled sufficiently for it them to stay evenly distributed.
The cost of this recipe really depend on how much your peppers cost. The total cost will be £6-£7 which is less than £1.50 or so a jar. Not bad for premium chilli jam!
This is what Julie says:-
We love chillies and after trying a chilli jam in a cafe with sun-dried tomato scones and cheese I decided to have a go myself. This is a very simple recipe.
Chilli Jam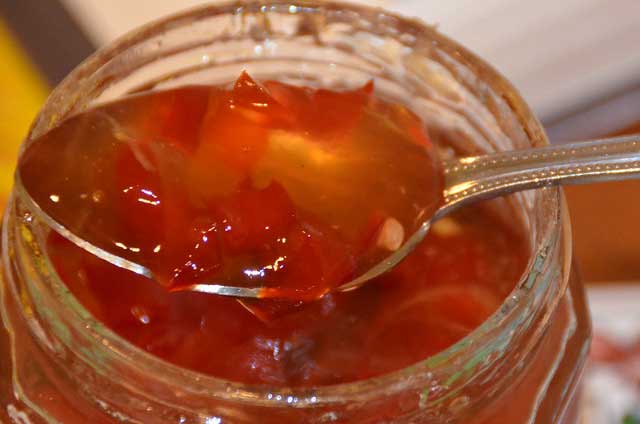 Prep time: 5 minutes
Cook time: 10 minutes
Total time: 15 minutes
Ingredients
100g / 3.5oz

sliced chillies with pith and seeds removed

750g / 1.5lb

sliced red peppers with pith and seeds removed

50g / 1.5 oz

grated fresh root ginger

350ml

cider vinegar

1kg / 2.2lb

sugar with added pectin

50ml

lime juice

1 teaspoon

salt
Cooking Directions
Finely chop the peppers and chillies.
Place them in large pan
Add the ginger and vinegar and slowly bring to simmering point
Add sugar, lime juice and salt stirring until the sugar has dissolved and the mixture begins to bubble
Boil for 3-4 minutes and then remove from heat.
Cool for 5 minutes then pour into clean, sterilised jars and seal with vinegar proof lids
Use within 12 months