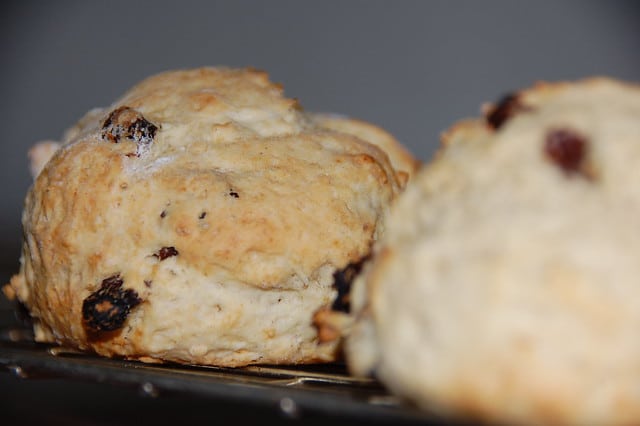 Scones – Tea Time Classic
Fruit Scones are part of the great British tradition along with cucumber sandwiches and tea. Making great scones eluded me for some time until I adapted a Delia Smith recipe for scones which is the best I have found. The easy scone recipe produces great results every time – and are really easy I now make scones two or three times a week and it really only takes a few minutes preparation.
Scones – A Simple Recipe
Scones consist of just flour (self-raising), butter or margarine, a little sugar and some milk. I love scones with sultanas but you can of course have them plain too. The sultanas add sweetness and also some texture. Use real butter to make your scones, if you like a true buttery taste.
Freshly baked scones served with jam and butter (or clotted cream) and a good, strong cup of tea, is wonderful any time of year. Share with friends or indulge alone!
Along with bread making, there is something very earthy and homely about making scones and they are just so much nicer than anything you can buy in the supermarket and much, much cheaper than scones from a bakery.
Hand made Scones
I make the scones by hand in a bowl. Once the dough is ready, I just flour my hands a little and turn it out on the work surface. There is no need to use a rolling pin, but just flatten the dough out, enough to cut out four scones with a pastry cutter. Scone dough should be handled gently and not over kneaded. The remaining dough will then make up a fifth scone, which I normally just shape by hand. I think it is important not to worry too much about what they look like. To me craggy and uneven says yummy and home made!
This recipe makes 5 large scones. Scones are best eaten fresh, still warm from the oven so it's good to make small batches. You can of course make more and freeze some.
Serve warm with butter and jam – or for special occasions some Cornish clotted cream and jam – and a cup of excellent tea! Then you can decide whether the jam or the cream goes on first – and age old argument.
Scones can also make a great snack or lunch without any cream or jam. They will keep for a couple of days if stored in an airtight container but they really aren't that good beyond 2 days.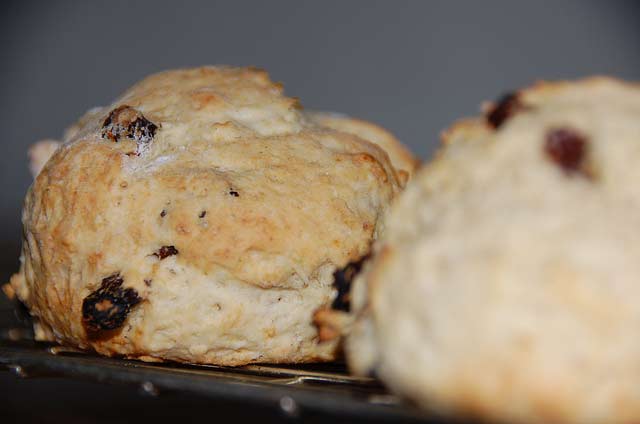 People sometimes prefer plain scones, just follow the recipe below and omit the sultanas – or add cherries instead! If you prefer your scones more savoury, omit the sugar and add a handful of grated cheddar cheese.
You might also like to try Scones with Ginger too!
They are great in a lunch box too!
More Recipes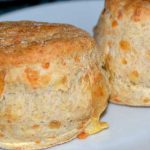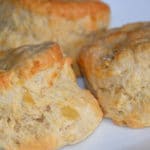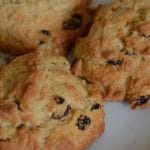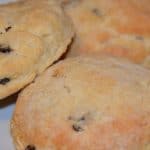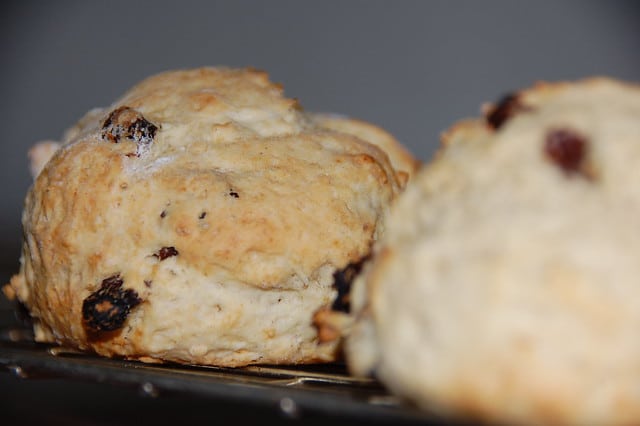 Fruit Scones Recipe
Delicious scones every time
Equipment
Baking tray

Pastry cutter 7-9cm
Ingredients
240

g

self-raising flour

40

g

cold butter

cut into cubes

2

tablespoons

sugar

150

ml

milk

2

handfuls

sultanas
Instructions
Preheat the oven to 220 degrees C

In a large bowl, rub the butter into the flour until it looks like fine breadcrumbs

Add the sugar and stir well

Add the sultanas and stir for even distribution (add more or less depending on how fruity you like your scones)

Pour in the milk and stir thoroughly until all the liquid is incorporated

Flour your hands and pull the ingredients into a soft dough

Roll out the dough on a floured surface to 1 inch thick (2.5cm) ( you can do this with your hands - no need for a rolling pin)

Cut out rounds with a 7-9cm pastry cutter

Pick up the remaining dough and knead gently together to roll out again until all the dough is used

Place on a baking tray that is greased, or lined with baking parchment

Bake for about 15 minutes or until risen and golden brown

Place on a cooling rack

Best eaten while still warm!