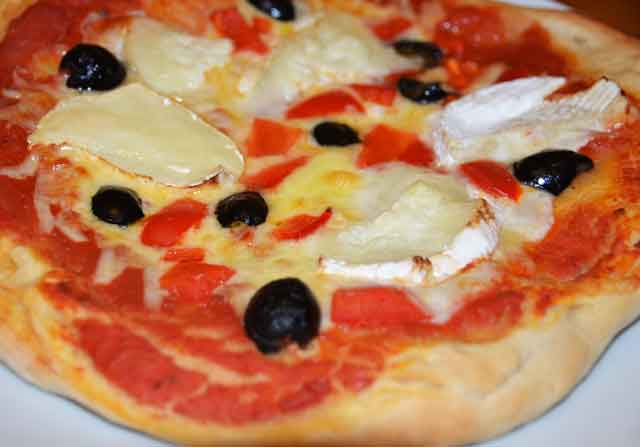 Home made Pizza Recipe
I am often surprised at the price of pizzas in the supermarkets and the takeaways ones. A pizza is simply a dough base, similar to bread with a variety of toppings on the top. The cheap pizzas often have rather meagre toppings on them, so you may be tempted to add more and the luxury pizzas are just way too expensive.
If you love pizza but don't like the prices, make your own. It really is easy and you can choose exactly what toppings you like. A luzury pizza for a fraction of a takeaway price!
Low Cost Supper
Pizza base is very easy to make and low cost. You can make as much dough as you need according to how many people you wish to feed. The base costs under 50p for four people so the rest of the cost is in the topping.
A cheese and tomato pizza with some herbs is about £2 for four people. In this pizza I added some goats cheese and chopped pepper. For this type of recipe the frozen sliced mixed peppers you can buy from the supermarkets are good value and you can just use the amount you want
You can buy pizza bases if you don't want to make your own. Just add your own toppings. Some supermarkets sell a pizza base mix too – but it is just flour, yeast and salt mixed together – and much more expensive than making your own mix as it only makes one base.
You can have fun trying different toppings including ham, pineapple or adding some chillies and pepperoni
Serving Suggestions
Serve with some coleslaw and / or salad
The recipe makes four generous pizzas. You could make two and serve half to everyone with a small baked potato and perhaps some sweetcorn.
Have Fun!
You can always try pizza tossing too if you like!
More Recipes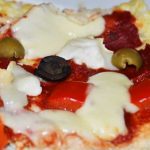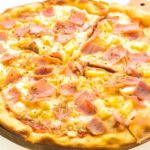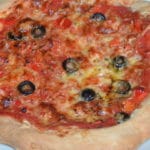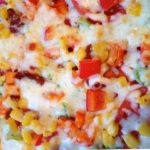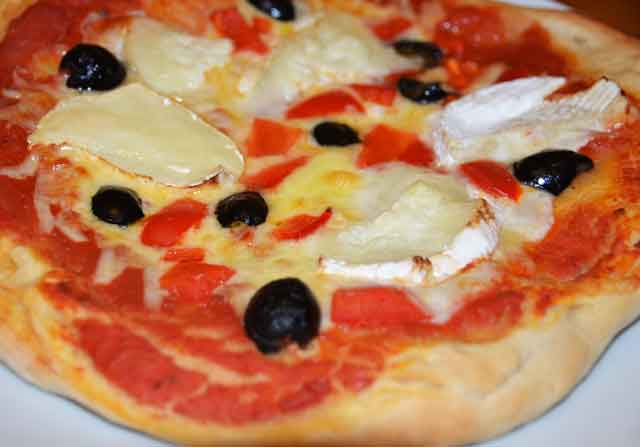 Goats Cheese Pizza
Ingredients
300ml

tepid water

2

teaspoon

sugar

4

teaspoons

dried yeast

500

g

plain flour

1

teaspoon

salt

1

400g tin

chopped tomatoes

1

teaspoon

mixed herbs

100

g

/ 4oz cheddar cheese

grated

100

g

soft goats cheese sliced and halved

1/2

pepper deseeded and chopped

12

black olives halved
Instructions
Place the tepid water in a bowl and add the sugar and stir

Sprinkle on the dried yeast and stir

Set aside for 10-15 minutes until frothing on the top

Put the flour and salt into a bowl and make a well in the middle

Draw together into one mass using floured hands until it forms together in one ball of dough

Knead the dough on a floured work surface – pushing the dough away with one hand and then drawing back towards you

Keep kneading for about 10 or so until it is smooth and elastic. Add a little more flour if it still a little sticky after 10 minutes

Place the dough in a bowl, cover with a tea towel and leave in a warmish place for about an hour, or until it has roughly doubled in size

Once the dough is ready, lift it out of the bowl and knock it back by punching the air out of it

Divide the dough into four equal parts

Roll each lump of dough into a ball and place in a bowl or on the work surface, covered with a cloth for 10-20 minutes

Work each ball into a round pizza shape using your hands, gently squashing and thinning it out as evenly as you can. Don't worry if it is not perfectly round!

Preheat the oven to 200 degrees C or gas mark 8

Put the chopped tomatoes in a bowl and add the herbs and pepper and mix with a handheld mix food processor whizz the tomatoes until smooth. (skip this step if you don't have a processor)

Cover each pizza with the tomato mixture

Divide the cheese into four and cover the tomato

Add pieces of the sliced goats cheese

Sprinkle the chopped pepper between the cheese slices

Add the halved olives, distributing them evenly

Bake in the oven for 15-20 minutes until the dough is cooked and the cheese, melted