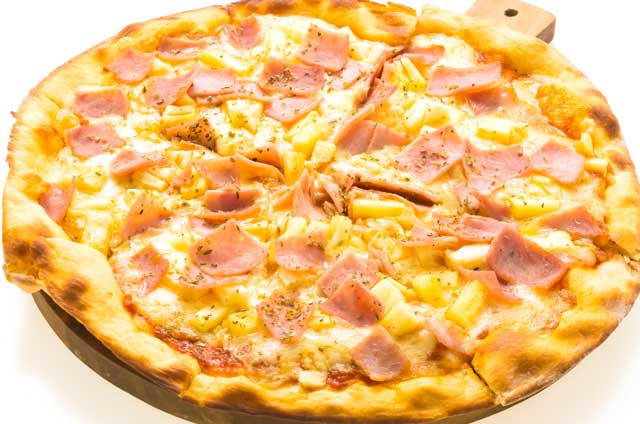 Pizzas
Pizzas are associated with unhealthy, fast food and there is no doubt that they can be very unhealthy. However it is clearly all about what toppings you use and the composition and size of the base. A good pizza base is very similar to bread dough – not really anything unhealthy about that, provided it is a sensible size. And the toppings – well it is all really down to what you want. You can make it low calorie and low fat if you wish.
I think the fact that a pizza can be either healthy and nutritious or overloaded with calories and fat, helps to illustrate the benefits of cooking at home and knowing what is going into your food, so you can make choices consciously, whether they be healthy or unhealthy ones! Like all recipes, good ingredients will result in a good meal.
Pizza doesn't have to be unhealthy – when you make it yourself you know exactly what is in the dough and decide what to have as a topping
Simple, Delicious Ham and Pineapple Pizza
Ham and pineapple pizza is one of the simpler pizzas – aside from plain cheese and tomato – and yet is one of the most delicious. The pineapple contrasts well with the flavour of the ham to make a sweet tasting pizza.
It is very easy to make a homemade pizza dough and I would recommend doing that for an easy and low cost recipe. You can find the recipe at How To Make Homemade Pizza. One pizza easily serves two people, and the dough recipe is enough for two pizzas.
If you do not wish to make your pizza base, you can buy plain pizza bases from supermarkets. You will still find this is a much cheaper option than buying a ready made pizza, although not nearly so much fun!
Use Your Favourite Ingredients
The recipe here is for guidance, feel free to add ingredients which you particularly enjoy. Pizzas are entirely adaptable to what you have in your kitchen and to what you enjoy. Chopped pepper makes a great additional ingredient too. Add a chopped garlic clove or two, as well. You may even like to spice things up by adding a chopped chilli too!

You can choose the type of ham you use, whether honey roast, peppered or plain boiled ham, but I would recommend you use proper ham, rather than 'reformed' ham slices. It will taste so much better. You can use a fresh pineapple or tinned pineapple, ideally unsweetened, in its own juice.
More Recipes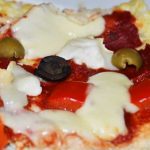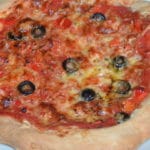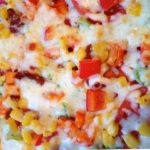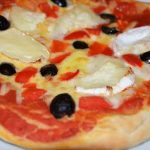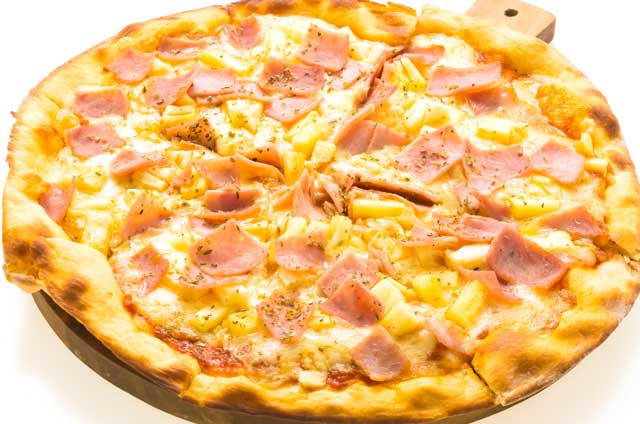 Ham and Pineapple Pizza
One of the best pizza topping combinations I know!
Ingredients
For the Base
300ml 

tepid water

2

teaspoon

sugar

4

teaspoons

dried yeast

500

g

plain flour

1

teaspoon

salt
For the Topping
6

dessertspoons chopped tomatoes

1

teaspoon

mixed dried herbs / a few torn basil leaves

100

g

grated mozzarella cheese

2

large slice good quality ham

chopped into small pieces

4

tablespoons

tinned pineapple pieces
Instructions
Make The Base
Place the tepid water in a bowl and add the sugar and stir

Sprinkle on the dried yeast and stir

Set aside for 10-15 minutes until frothing on the top

Put the flour and salt into a bowl and make a well in the middle

Draw together into one mass using floured hands until it forms together in one ball of dough

Knead the dough on a floured work surface – pushing the dough away with one hand and then drawing back towards you

Keep kneading for about 10 or so until it is smooth and elastic. Add a little more flour if it still a little sticky after 10 minutes

Place the dough in a bowl, cover with a tea towel and leave in a warmish place for about an hour, or until it has roughly doubled in size

Once the dough is ready, lift it out of the bowl and knock it back by punching the air out of it

Divide the dough into four equal parts

Roll each lump of dough into a ball and place in a bowl or on the work surface, covered with a cloth for 10-20 minutes

Work each ball into a round pizza shape using your hands, gently squashing and thinning it out as evenly as you can. Don't worry if it is not perfectly round!
Make The Topping
Preheat the oven to 200 degrees C or gas mark 8

Add the herbs to the tomatoes

Spread evenly over the pizza base

Sprinkle the cheese over the tomato

Place the ham pieces evenly over the pizza

Evenly distribute the pineapple pieces on top

Bake in the oven for 15-30 minutes

Serve immediately with some green salad or a baked potato