Celebration Sherry Trifle Dessert
To help celebrate a birthday recently, I made a sherry trifle. My Mother always made the best trifles ever and I have endeavoured to imitate her several times. I am happy to say I think my last attempt was the best yet. Her trifles are always simple. Just sponge, fruit, generous amounts of sherry, custard and cream. Really simple
To her the worst thing you could do with a trifle was soak the sponge in jelly. In fact she believed jelly had no place at all in a trifle!
According to Wikipedia, trifle dates back as far as the late 1500s when the first reference to it can be found. Although the original recipe did not contain custard nor much fruit it seems. These ingredients appeared a few decades later. Jelly as a possible ingredient first appeared in the 18th century.
The best trifle is made most simply – sponge, fruit, custard and cream – and of course a generous slug of sherry!
Easy, Simple Trifle
Sherry trifle is a simple dessert. It is easy to make and everyone loves it which is a delight when it takes little effort to make. To keep things simple I have used shop bought trifle sponges and powdered custard made up about twice as thick as the directions on the pack.
Trifle sponges are very dry so they soak up plenty of fruit juice and sherry (if using). I suspect they would be difficult to replicate if you made your own – some 2 or 3 day old sponge cake that had been left out to dry might do the trick. In fact trifle might be a good way to use up any stale cake!
Fruit
One of the delights of a trifle is that you can use a variety of fruit. Use seasonal fruit – fresh raspberries or strawberries are wonderful when in season. You can also use tinned or frozen fruit because the mushy texture with plenty of juice is perfect for a moist trifle!
I used a 400g bag of frozen raspberries and a 500g bag of Forest Fruit frozen berries. All the major supermarkets do frozen fruit.
The quantity of fruit does not have to be that precise – just use what you have and add more if you think. 900g of frozen fruit complete with all its juice was just right!
Defrosting tip – When waiting for the berries to defrost, place them in a large bowl as they always tend to leak some juice. You need to capture the juice and avoid a huge mess!
Favourite Bowl
You can make a sherry trifle in any bowl and people will love it but I do think it adds something extra if you use a fabulous bowl. This might be a fancy glass bowl. I made it in a large Portmeirion – 10″ Bowl
. I bought it many years ago and it has survived many moves. I use it for large salads and fruit salads too.
Make It Your Own Way – Variations
The recipe below is how I made a trifle but do use the recipe as a framework.
Split the sponges and spread with strawberry jam
Use different fruit – tinned, fresh or frozen
Use the amount of fruit you like – have more to make a really fruity trifle
Use extra juice instead of sherry
Use brandy, rum or sloe gin instead of sherry
Add your own flourish – hundreds and thousands, cut strawberries etc. on top of the cream
More Dessert Recipes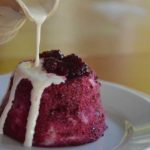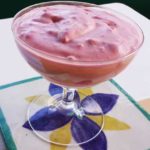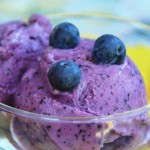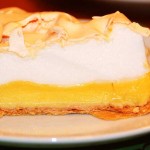 Sherry Trifle
Delicious special dessert
Ingredients
1

packet

8 trifle sponges

400

g

frozen raspberries

- defrosted in a bowl

500

g

frozen forest fruits

- defrosted in a bowl

6-10

tablespoons

sherry

or additional fruit juice
For Custard
700

ml

milk

4

heaped tablespoons

custard powder

3

tablespoons

sugar

300

ml

double cream
Instructions
Line the bottom of the bowl with the trifle sponges

Add the fruit with juice

Add the sherry

Press down on the fruit to ensure the juice gets through too the sponges

Cover and leave for 8 hours to soak or overnight

Make the custard according to the pack instructions

When cooling keep stirring to prevent a skin forming.

Pour over the fruit when it is still warm and cover with clingfilm to prevent skin forming

Allow to cool completely

Whip up the cream until stiff and spread over the top of the custard

Keep in the fridge until serving
Notes
Make up the trifle ideally the day before you need it as you do need time for soaking the sponge with the fruit and sherry and for the custard to cool completely before adding the cream.
Sherry trifle is best the next day - or even the day after that as the sherry has had time to permeate the fruit and the sponge