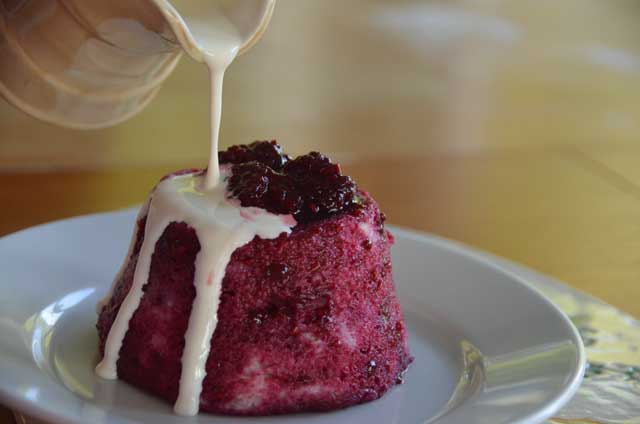 Summer Dessert Recipes
I have just been thinking about posting more berry based recipes with summer approaching and was chatting to a friend and she suggested Summer Pudding. Of course! Few desserts sum up summer as much as summer pudding – full of luscious berries. The wonderful thing is that Summer Pudding can be made all year round as it is ideal for frozen berries.
Summer Pudding is the go to dessert for summer months. So easy to go together and yet so impressive!
Super Easy Dessert
So easy to make and with minimal ingredients, this dessert can be made the day before you need it – or in the morning for the evening. This recipe is for individual puddings so you can adapt the quantities according to how many people you are cooking for. The given ingredients are for two people.
All you need are a mix of berries and some day or two old white bread. I made up the puddings in 200ml ramekins – but you can use large teacups or small pudding basins. Just line the inside of your cup or ramekin with the bread and pour in gently cooked berries with plenty of juice and top with a final piece of bread. Refrigerate for 4 hours or overnight and turn out. Really easy and so delicious!
Type of Berries Your Choice
Traditionally Summer Pudding is made with raspberries and red currants but I used a frozen summer berries mix and added some fresh Strawberries. You can use exactly the berries that you love best – or what you happen to have in your fridge or freezer. This really is an adaptable recipe!
Summer pudding was apparently first developed as an alternative to heavy puddings for convalescents in hospitals in the late 1800s. It was originally known as hydropathic pudding.
White Bread
This is a recipe ideal for using up any white bread. If you buy the bread especially give it a day or two before you use it so the bread is less fresh. You can use up the remaining loaf by making a Bread and Butter Pudding or a a Bread Pudding. Do use a good quality type farmhouse loaf.
Serving Suggestions
Summer Pudding is dessert best served with cream or ice cream. The cream soaks into the sponge.
Summer Pudding Recipe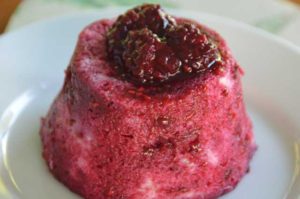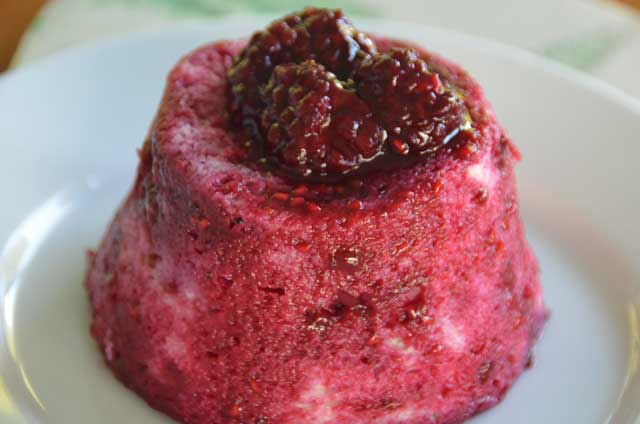 Ingredients
300g / 11oz

mixed frozen summer berries (any of blackberries, blackcurrants, raspberries,redcurrants)

50g / 2oz

fresh strawberries

2 tablespoons

caster sugar

4 slices

slightly stale white bread
Cooking Directions
Tip the mixed frozen berries into a saucepan
Sprinkle the sugar into the berries and stir
Heat the berries gently to let them defrost and release their juices, gently bringing to boil
Simmer for 2 minutes or until there is plenty of juice
Remove from the heat
Chop up the fresh strawberries and keep separately
Using a pastry cutter, cut out 4 circles of bread the same size as your ramekin
Put one each of the rounds in the base of the ramekin
Cut out strips of the bread to fit the sides of the container, making sure there are no gaps.
Pack the juicy berries from the pan into the moulds, making sure plenty of juice goes into the bread, up to 3/4 from the top
Divide the chopped strawberries between the moulds and push into the middle of the berry mix
Add most of the remaining berries and juice, reserving a little to put on top when serving
Top with the remaining round of bread, gently pushing the edges together to form a seal
Cover with clingfilm and push down firmly to ensure it is all holding together
Place in the fridge for at least four hours or overnight
When ready to serve, remove the clingfilm and gently run a table knife around the edge. Put a plate over the top and turn upside down. The pudding should easily come out
Top with remaining berries and juice
Serve with cream or ice cream
More Berry Recipes