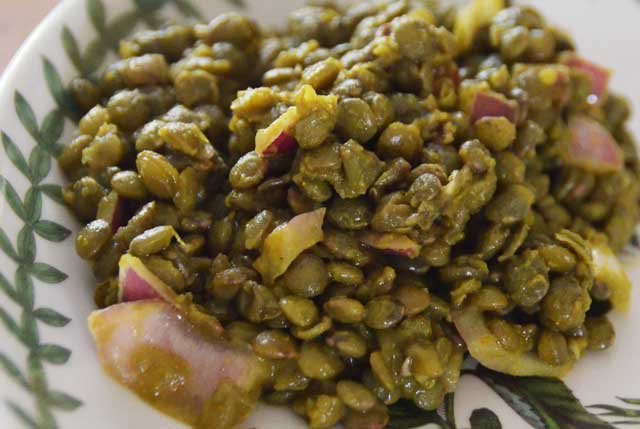 Lentil Salad Recipe
When the sun is shining, cooking is not often something you want to do so I love to have some salads in the fridge to make a quick and tasty dinner or even for a picnic. This lentil salad is very easy to make and tastes delicious. It keeps well and tastes even better after a couple of days because the flavours have more chance to develop.
Having this lentil salad in the fridge on warmer days, saves cooking and it can be served in a number of delicious ways
Lentils And Spices
The recipe uses puy lentils but you can use green lentils instead if you wish. The puy lentils are just a bit darker and smaller and come from the Puy region of France. There is quite a long list of spices in this recipe. I hope you will have most of them – but don't buy any especially for this recipe, unless it is one that you might like anyway and will use again. It will still taste good – just adjust the spices to your liking. If you have very few – use a good curry powder instead. There are no definitive rules- just use the idea.
Side Salad Or Main Course
Serve this salad as a part of a larger choice of salads, as a side dish to a quiche or boiled eggs or on its own with a green salad. Serve with cheese, nuts or ham.
This recipe makes enough for 8 people as a main course so halve the quantities if you don't want that much but you can adapt it through the week serving it with different things.
Similar salads in the supermarket are relatively very expensive compared to making your own.
Sharing Recipes
I based this recipe on a lentil salad in the book Pulse: Truly Modern Recipes for Beans, Chickpeas and Lentils, to Tempt Meat Eaters and Vegetarians Alike
the recipe in there had in turn been based on a recipe from a food blog – My New Roots. A fine example of taking ideas and adapting them to suit your own tastes. Blogs are now a way of passing on and distributing recipes much faster than when neighbours, friends or relatives shared them with each other, but the spirit of sharing recipes and passing them down generations is still the same!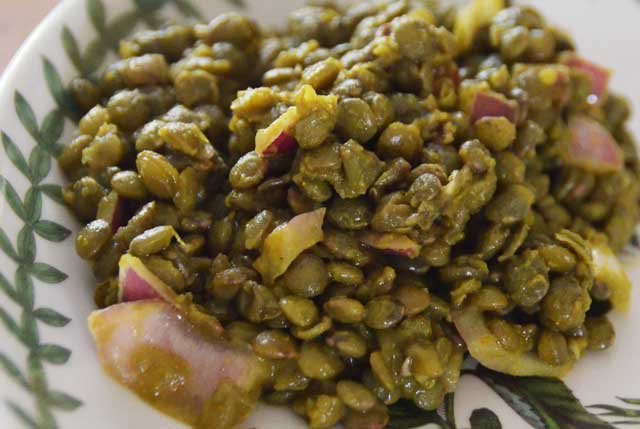 Lentil Salad
Ingredients
500

g

puy or green lentils

1

red onion

peeled and diced

150

g

sultanas

6

tablespoons

olive oil

5

tablespoons

cider vinegar

1

tablespoon

maple syrup

1

tablespoon

Dijon mustard

1

teaspoon

salt

2

teaspoon

pepper

2

teaspoons

ground cumin

1

teaspoon

turmeric

1

teaspoon

coriander

1/4

teaspoon

cayenne pepper

1/4

teaspoon

nutmeg
Instructions
Put the lentils in a large saucepan and cover with boiling water

Bring to the boil and simmer for about 20 minutes until tender but not too soft

Meanwhile place all the spice ingredients in a jug and mix thoroughly

Drain the lentils and place in a large bowl

Stir in the onion and dried fruit

Stir in the vinaigrette

Allow to cool completely

Cover and refrigerate

Remove from fridge 30 minutes before serving
More Lentil Recipes