Apple Dessert
This Apple Sponge Pudding is an alternative apple dessert recipe when you are looking to use your apples in the most delicious ways! This is a variation on Eve's Pudding but is a little different and a bit sweet and gooey!
A;though apples are available all year, when summer and autumn brings a glut of apples, it is good to have some slightly different apple pudding recipes, that are also easy to do
It is very easy to make. In fact if you haven't done this before, you may find the instructions slightly odd – but go with it – you won't be disappointed. Like the Impossible Pie type recipe in you are going to pour the syrup over the pudding – and it will emerge underneath as a caramel sauce!
Apples For Puddings
Cooking apples are best for puddings, notably the Bramley Apple – as they hold their shape well as well as having a good flavour but if you have a surplus of eating apples – try them out. Some varieties will go more mushy than others.
There are hundreds of apple varieties out there – and some people don't know the name of the variety that they have in their garden – so the best way forward is just to try them! The level of sweetness will influence the quantity of sugar you may use. In this recipe the sugar is all in the sponge and and in the sauce.
Autumn Puddings
When the sun is till shining, big apple puddings seem a bit too much but as the cooler days move in, this sort of dessert fills and warms and reminds you of the harvest months. Make a few and freeze them for colder days – it will taste like a ray of sunshine!
People still love the traditional puddings, especially in the winter such as Apple Crumble and Treacle Pudding and this is one more delicious pudding recipe to add to your repetoire!
More Apple Dessert Recipes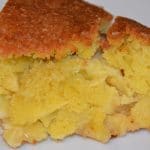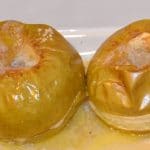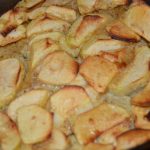 Apple Sponge Pudding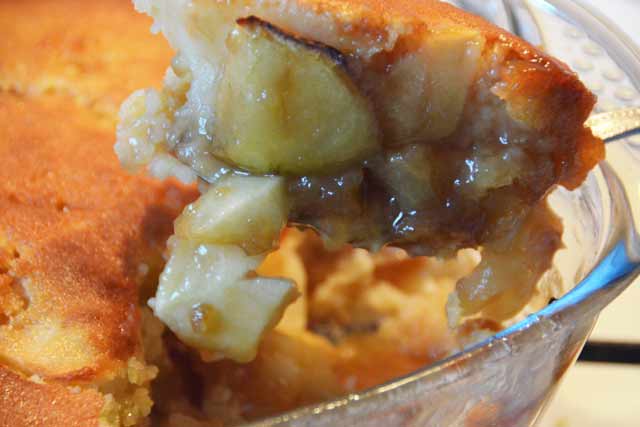 Ingredients
140g / 5oz

self-raising flour

85g/ 3oz

butter, melted

1 teaspoon

baking powder

100g / 3.5oz

caster sugar

200ml

milk

1

egg, beaten

2 bramley apples

peeled, cored and chopped

140g / 5oz

dark muscavado sugar

150ml

boiling water
Cooking Directions
Grease a large 2 litre baking dish
Preheat the oven to 180 degrees C
Put the caster sugar, flour and baking powder in a large bowl
In another bowl mix the egg, milk and butter
Pour this into the dry ingredients and stir
Place the apples in the base of the baking dish
Pour the flour and milk mixture over the apples
Pour the boiling water over the dark muscavado sugar and stir until smooth
Pour over the top of the pudding
Bake in the oven for 45 minutes
Serve with ice cream or cream