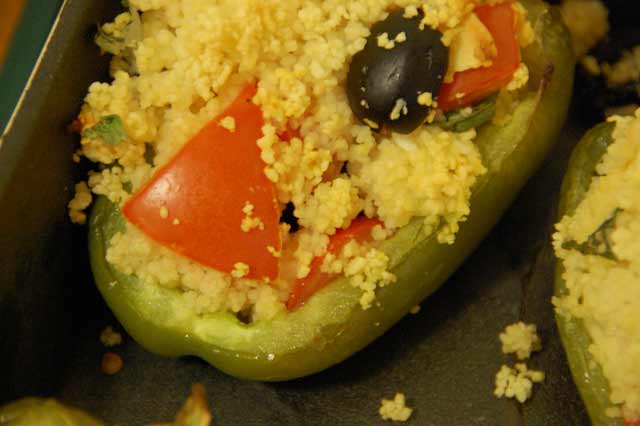 Stuffed Peppers
Stuffed peppers are really delicious and easy to make. This stuffed pepper recipe is ideal when you have been working hard all day you need something really easy to cook when you come in from work – ideally something you can just put in the oven while you shower, have a cup of tea or relax with a book.
Stuffed Peppers are a wonderful meal for when you need something quick, easy, tasty and low cost. Just 5 minutes preparation time – ready to eat in 30 minutes
It is the reason why ready meals can be so tempting. But you also want something really tasty and with plenty of nutrients. Low cost is good too especially if you are on a low budget. Ready meals rarely fulfill those two requirements.
Stuffed Peppers – Any Colour
I have used green peppers in this recipe but you can use red, orange or yellow peppers – or a mix so that a person gets perhaps half a red pepper and half a yellow pepper. They all taste slightly different – it is just a matter of personal preference. The only preparation required is to cut in half length ways, cut out the pith and seeds and lay them in a baking tray.
It is the roasting of the peppers that bring pout the full flavour and sweetness.
Local peppers are plentiful in late summer. Check your local food supplier to see what different shapes and types of pepper are available. They tend to be available from supermarkets all year round.
Coucous
Couscous takes almost no time to prepare – just measure it out and place in a bowl and cover with boiling water. Leave for 5 minutes and then it is ready to use. Couscous makes an easy alternative to pasta. It is very similar, being tiny grains of durum wheat. It has little flavour itself, but soaks up the flavours of anything that is put with it. It originates from North Africa and has been a staple there possibly since the 11th century. It was not until recent times that it gained popularity in Europe, particularly in France.
The remaining ingredients in this recipe are tomatoes, flaked almonds, feta cheese, olives and some basil leaves. Feta cheese is a Greek cheese traditionally made from sheep or goats milk. Owing to an EU ruling, such cheese can only be given the name 'feta' if it has been made in Greece. Otherwise it may bear the name 'Greek-style' cheese for example.

Fresh basil leaves are best but use dried ones if you don't have a basil plant. I used black olives, because they are my favourite, but you can use any olives. In late summer, do try to buy local tomatoes. Apart from supporting your local economy and reducing your carbon footprint, they are likely to be the most delicious especially if they are freshly picked when ripe. You could use sun dried tomatoes instead.
Serve this dish with a salad or your favourite vegetables. Is served it recently with carrots and green beans.
The couscous mix can be made on its own to be served in salads or even as lunchtime dish. It could be sealed in a plastic container to takes as a packed lunch.
h3>More Stuffed Pepper Recipes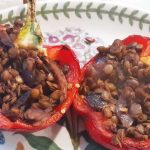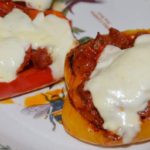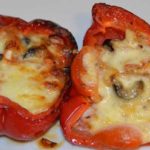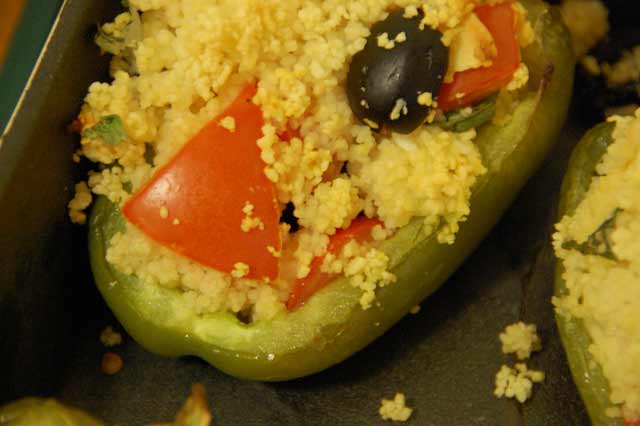 Stuffed Peppers with Couscous
Delicious roasted sweet peppers stuffed with cous cous and olives to amke a really tasty, easy supper recipe. Serve with green salad
Ingredients
2

large

Peppers, any colour

cut in half length ways with pith and seeds removed

1

tablespoon

olive oil

80

g

couscous

130

ml

Boiling water

40

g

feta cheese

2-3

small tomatoes

chopped

25

g

flaked almonds

4-5

basil leaves

torn

10-15

olives

halved
Instructions
Brush the peppers with olive oil and place in a baking dish

Bake in an oven for 15-20 minutes at 200 degrees C until soft

Meanwhile, place the couscous in a bowl

Pour over boiling water to about 1cm above the couscous

Allow to stand for 5 minutes

Stir the tomatoes into the couscous

Add the almonds and basil leaves and stir

Add the olives and stir

Crumble the cheese in and stir

Spoon the mixture into the peppers, dividing it evenly between the pepper halves

Spoon any excess over the top

Bake in the oven for about 20 minutes at 160 degrees C

Serve immediately