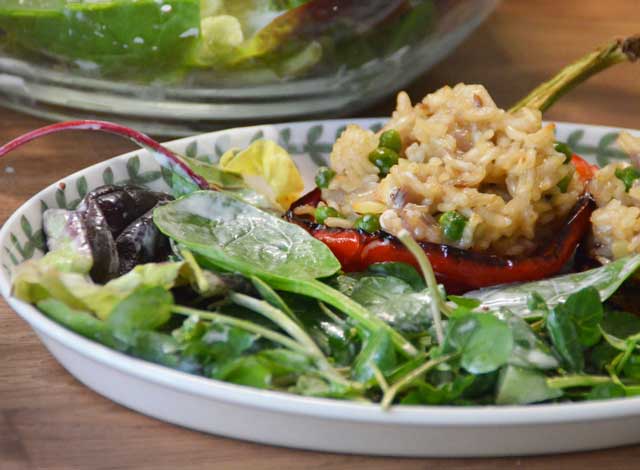 Stuffed Peppers
There are many ways to stuff a pepper and rice makes an excellent ingredient. The main point of stuffed peppers, is to bring out the sweet flavour of the roasted pepper and the soft texture, and enjoy it mingling with the tastes and textures of whatever you stuff it with. Try any of the stuffed pepper recipes and make your own variations.
Easy Stuffed Pepper Recipe
Recipes for stuffed peppers can end up being too fussy and over complex but I think this recipe (below) is straight forward without too many ingredients, yet tasty and filling. Peppers stuffed with couscous is another easy and tasty recipe.
If you are not a vegetarian, you may also like to try Stuffed Peppers with Mince. It doesn't really need an accompaniment although a nice green leafy salad would go well with it or your favourite cooked vegetable.
Roast stuffed peppers brings out the flavour of the peppers. Using red and green peppers together varies the flavour and makes for a colourful plate!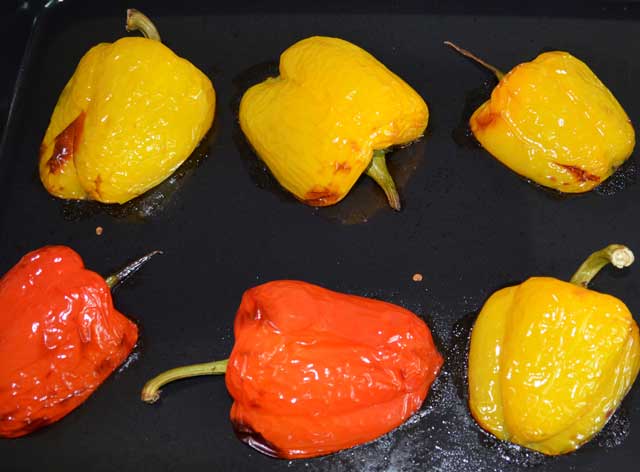 Yellow Or Red Peppers
You can use which ever colour of pepper you like. Red peppers are much sweeter than green ones, but I enjoy the flavour of green peppers. Use yellow or orange either.
The last time I cooked it I used yellow and red peppers. It makes a more colourful plate as well as giving a variety in flavour.
Your Favourite Rice
I have used arborio (risotto) rice in this recipe, but basmati rice would be tasty or brown rice for a more nutty taste and texture. The amount of stock you will need may vary so start by adding about half the stock and then continue adding a small amount at a time, until the rice is soft.
The final result should be moist but without too much remaining liquid.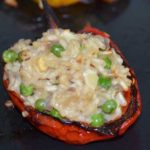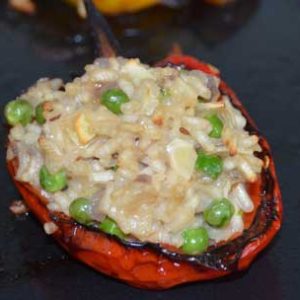 This recipe suggests adding frozen peas but you can add sweetcorn, mushrooms or chopped runner beans. Try pine nuts instead of almonds.
Try whatever you have in your cupboards or any leftover cooked vegetables. You could also add some cooked meats or cooked sausage.
If you are feeling extravagant, you can use white wine as stock.
Serve with a green leaf salad or hot cooked vegetables such as broccoli or carrots.
More Stuffed Pepper Recipes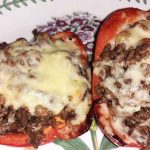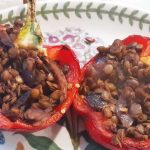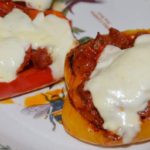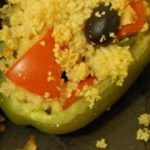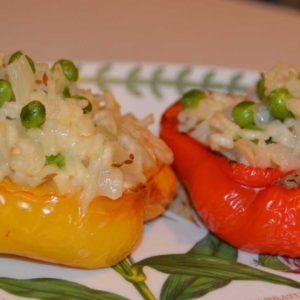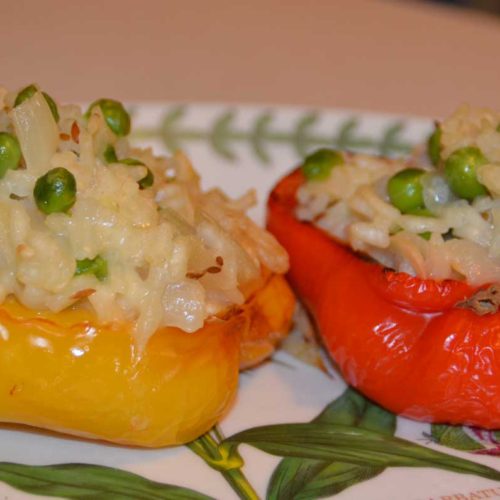 Stuffed Peppers with Rice Recipe
Easy, delicious low cost supper recipe with the sweet flavour of roast peppers
Ingredients
2

whole

peppers

any colour, halved lengthways with seeds and pith removed

1

tablespoon

olive oil

1

medium

red onion

peeled and chopped

2

cloves

garlic

peeled and sliced

100

g

arborio rice

400

ml

vegetable stock

30

g

parmesan or pecorino cheese

grated

A

handful

frozen peas

A

handful

flaked almonds

1

teaspoon

cumin

Black pepper to taste
Instructions
Heat the oven to 190 degrees C

Place the peppers on a baking tray, skin side up

Brush with about one tablespoon of olive oil

Bake in oven for 20-25minutes until starting to char

Meanwhile make the filling

Heat 1 tablespoon olive oil in a saucepan

Fry the onion until soft

Add the garlic and cook for a further minute

Add the rice, stir and cook for a minute

Add half the stock

Add the cumin

Cook for 10 minutes or so until stock is absorbed

Add a little more stock

Add the almonds and frozen peas

Keep adding stock until rice is soft

Check peppers and remove from oven when ready - set to one side

Stir in the grated cheese

Spoon the rice into the peppers

Bake in the oven for about 10 minutes

Serve immediately