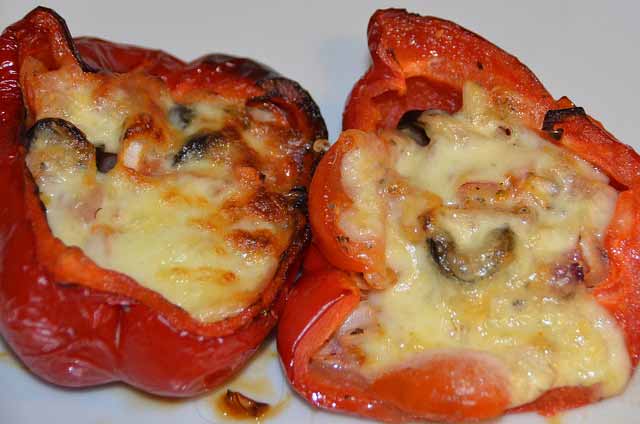 Stuffed Peppers With A Cheese Topping
Peppers and cheese go together really well. And that includes most cheeses from cheddar to goat's cheese and Parmesan to mozzarella. There is so much potential with stuffed peppers, so do use the recipe as a guide and an idea.
This recipe uses ingredients that go well together including onions, olives, tomatoes and basil with a mozzarella topping. It is very easy as it requires only 5 minutes preparation and then it goes in the oven.
Stuffed peppers are popular and this recipe combines ingredients that all go well together and then is topped with mozzarella cheese
Popular Stuffed Peppers
Stuffed peppers are among the more popular recipes on this website. It can almost be confusing that there are so many ways to stuff a pepper that it is quite difficult to choose which is best. If you think about initially whether you want meat or vegetarian and then decide on the type of meat you want to use or whether your vegetarian filling should include rice, couscous or cheese. Experiment with your favourite flavours consider that it can be a great way to use up some leftovers from your fridge.
Red, green and yellow peppers are all interchangeable in the recipes. Just use the ones that you prefer or what is available to you. A mix makes for a very colourful meal!
What To Serve With Stuffed Peppers
Lovely, and nutritious as they are, they need something extra to be served with. In the summer time a good leafy salad and some crusty bread, or may be some garlic bread, can be perfect.
A baked potato is a good choice in the colder months or they can also go well with rice or pasta. Plain if you like as you get plenty of flavour and some juices from the peppers.
Tasty Starter
You can serve this recipe as a starter to a dinner party. Just serve half a pepper with some salad leaves. Easy to do as you can get them ready in advance and then just pop them in the oven when required.
More Stuffed Pepper Recipes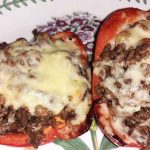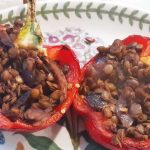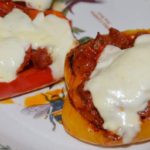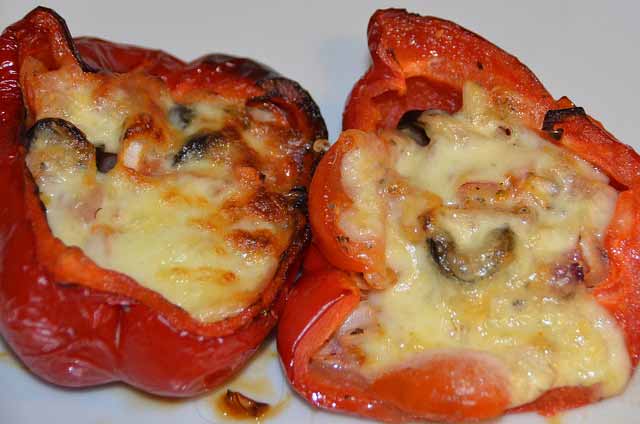 Stuffed Peppers With Cheese Recipe
Ingredients
4

large

peppers

any colour

1

medium

onion

peeled and finely chopped

10

cherry tomatoes

8

black olives

2

teaspoons

dried basil or fresh torn basil leaves

125

g

mozzarella

1

tablespoon

olive oil
Instructions
Preheat the oven at 180 degrees C

Halve the peppers and remove the seeds and pith

Lay on a baking tray and brush with olive oil

Set aside

Slice the cherry tomatoes

Slice the black olives

In a bowl mix the onions, tomatoes, olives and basil

Season with black pepper

Divide the mixture evenly among the peppers

Place in the oven for 20 minutes

Slice the mozzarella

Place slices of mozzarella on top of each of the pepper halves

Return to the oven and bake for a further 20 minutes until the peppers are soft and the cheese is melted and browning