Stewed Apples
During an apple glut of 2011 which lasted from August to November, a friend of mine just brought bags and bags of apples from her orchard. It is a wonderful gift to receive, the fruit of another person's tree. It is part of human sharing and is a gift freely given – because clearly her family can not consume the sheer quantity of apples alone – so they have pleasure in giving to others instead of allowing them to rot.
Stewed apples are a deliciously simple way of using up the autumn glut of apples. Ring the changes by trying a few variations of flavour
Lots of Apple Recipes
Having made several recipes such as Apple Snow, Apple crumble, Baked Apples, Apple Cake and Apple Chutney, I thought I would write up the simplest recipe – the one I use when I just want a simple dessert – plain old stewed apples. I say plain but you can do many things with stewed apples to add flavour and zest to the pudding. But even just simple stewed apples are autumnal, warming and comforting. It is also fairly low in calories, although they can soon be added in!
If you are not lucky enough to know someone who has an apple tree with surplus apples, do look around for other sources. I have seen a few surplus apples advertised on Freecycle – the website where people give away unwanted items. Look around for any Harvest type community projects.

Currently locally grown apples are being sold at very competitive prices in Farmer's markets and local food stalls and shops, so check those out before heading to the supermarket. It also means you can try out variety of apples for both cooking and eating
Buy Local
Consuming locally grown produce has a real 'feelgood' factor. Consider the difference in carbon footprint and resources used to bring an apple from New Zealand compared with an apple grown in a local orchard. Not only is it the fuel used in transporting it, but the administration, packaging and handling that all has an overhead in time, money and resource. And it does seem a ridiculous situation that we import so many apples and yet potentially some of our local crop will inevitably go to waste.
Have you recently dealt with a glut of apples? If you have some great recipe ideas, I would love to hear from you. This website shares tried and tested recipes that are simple and low cost. Just get in touch via email or using the Contact Page
The amount of liquid you need when stewing apples, depends on the apples your are using. Just add a small amount in and add more if it looks too dry. Be careful not to add too much. The amount of sugar you will need depends on the sweetness of the apples, and you own taste.
Serve stewed apples with cream, ice cream, custard, yoghurt – or whatever you like!
This recipe has been referred to in a wonderful blog that is the diary of a 55 year old widow, Irene Dolton (nee Smith), who was living in Ludlowville, NY with the blog owner's Mother & Aunty in 1936. Makes fascinating reading of daily life and cooking.
More Apple Dessert Recipes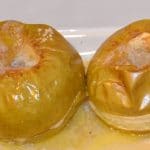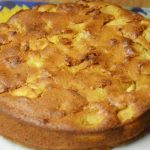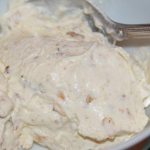 Stewed Apples Recipe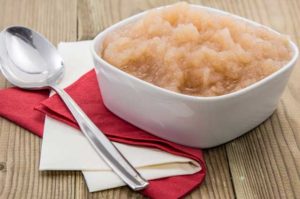 Ingredients
1-2

1-2 apples per person, peeled and chopped

Splash

of apple juice (or water)

1 teaspoon

sugar per apple
Cooking Directions
Place the apples, juice/water and sugar in a heavy bottomed saucepan
Heat up on a medium heat until bubbling
Stir, cover with a lid and turn down heat a little
Cook for 20-30 minutes until soft (depends on type of apple)b
Adjust liquid as necessary
Optional Additions
With Cinnamon
Add a teaspoon of cinnamon to the above recipe before cooking
With Lemon juice and Raisins

Add the juice of half a lemon and a handful of raisins to the above recipe before cooking
With Ginger

Add a few pieces of stem ginger plus some juice from the jar before cooking
With Tahini and Honey

Add a spoonful of honey instead of the sugar
Stir in a teaspoon of tahini once cooked
Serve hot or cold with custard, ice cream, cream or evaporated milk