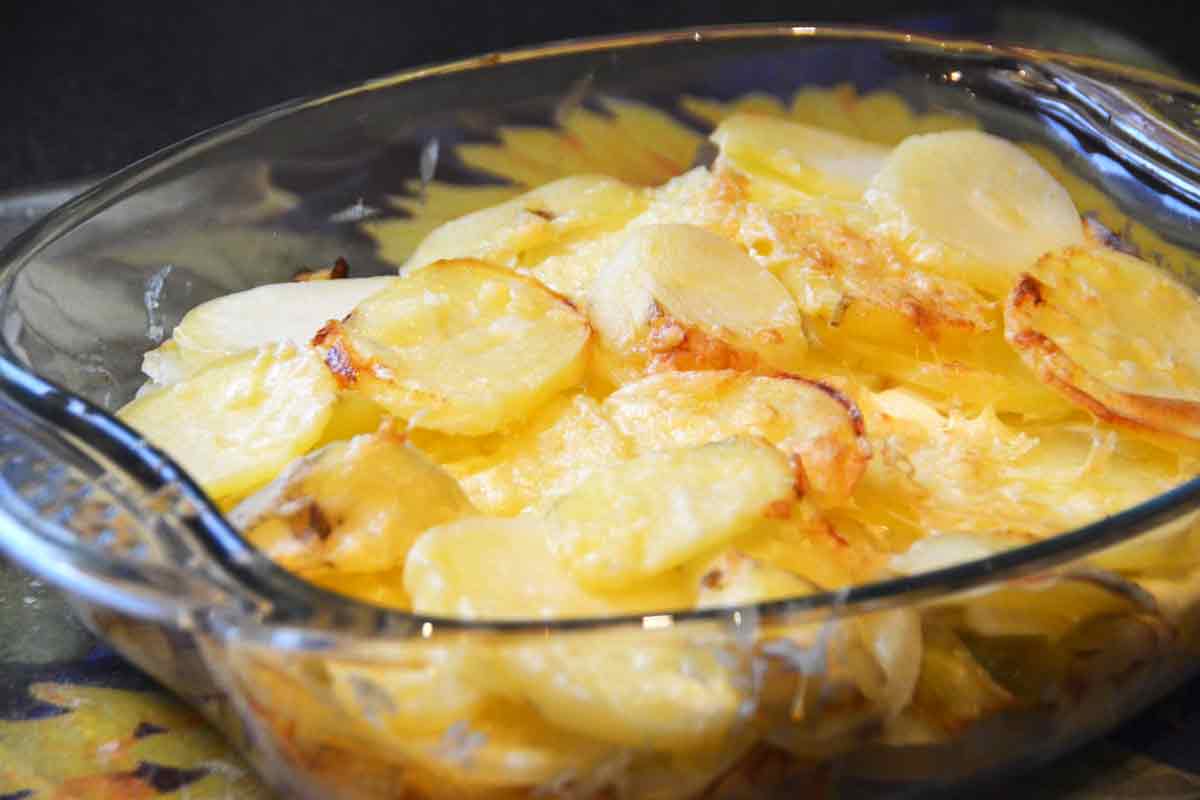 Leek And Potato
This is a seriously delicious, low cost and easy one pot meal to make. Just 10 minutes to prepare and it goes in the oven. It make a good mid week supper or a lazy Saturday afternoon tea. Leeks and potatoes just have an affinity with each other that is hard to beat. It is also why leek and potato soup is such a winner, too. Then add cheese and it is nourishing comfort food. Ham can be added as an optional extra too.
Easy to prepare, delicious and very low cost at around £3 to feed a family of four, this is the perfect winter time, midweek supper!
Lovely Leeks
Leeks are in season from autumn through to spring, so this is a dish that you can have anytime in the winter. Its total cost is around £3 for a meal for four! Easy, low cost and very delicious! It does need quite a long cook in the oven so it is good to time it with cooking something else. Bake some scones with sultanas, a cake, bread or even a dessert!
Long Slow Cook
The potatoes are sliced and placed in the dish raw, so can take a while to cook. Potatoes are variable as to how long they take to cook, so you will need to check towards the end of cooking time, and adjust the time in the oven accordingly. It is not a dish to cook if you are up against a timetable – but it is certainly worth the wait! I parboil the potatoes for a few minutes until they are just beginning to soften, before putting them in the casserole.
When buying leeks, check your local green grocer as they are often cheaper than the supermarket – and they may be more locally grown too.
The leek, as you probably know, is related to the onion and garlic although is much less strong and pungent. The leek, along with the daffodil, has been an emblem of Wales since the 16th century, but there is evidence that it was grown and cooked in Wales many of hundreds of years before that. So it has certainly been around, and been a part of the UK diet for a very long time.
Crème Fraîche
I used a reduced fat crème fraîche in the recipe but if you are feeling more indulgent you can use full fat or double cream. You can also use all milk. It is really a matter of taste preference. I mixed the crème fraîche with a little milk to make it go further and to make it a little runnier
Serve With Vegetables
Serve the bake leek and potato bake with your favourite vegtables. My favourites are sweetcorn and peas or broccoli and carrots
More Leek And Potato Recipes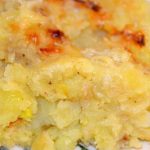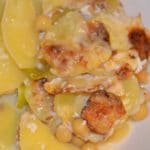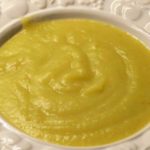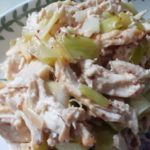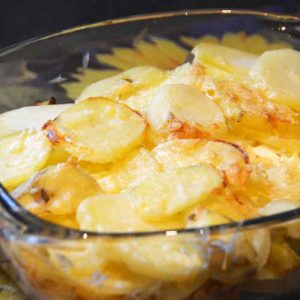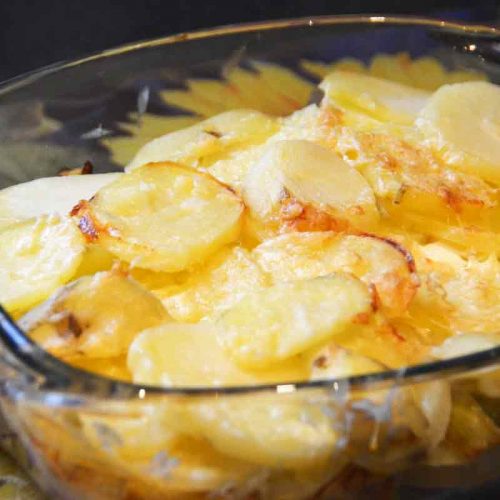 Leek And Potato Gratin
Easy and delicious supper recipe
Ingredients
2

tablespoons

olive oil

2

large

leeks

sliced

4

medium

potatoes

1

slice

ham

85

g

cheddar cheese

grated

200

ml

creme fraiche

50

ml

milk
Instructions
Preheat the oven to 180 degrees C

Heat the olive oil in a large frying pan

Add the leeks

Cook the leeks until soft and the rings fall apart

Peel the potatoes and thinly slice

Place in a large saucepan and cover with boiling water

Simmer for 7 minutes until softening

Mix the milk in with the creme fraiche. Pour milk over the top, ensuring it almost covers the leek and potatoes

Grease a casserole or large baking dish

Place a layer of potatoes on the bottom

Spoon over one half of the leeks

Sprinkle with one third of the cheese

Add half the ham, if using

Spoon half the creme fraiche and milk mix

Add another layer as above

Top with final layer of potatoes and a sprinkling of cheese

Retain 1/4 of the cheese to sprinkle over towards the end of baking time

Cover and bake for 45 minutes

After 45 minutes remove from oven and remove cover and sprinkle with remaining cheese

Replace in oven uncovered for 10 minutes

Check potatoes are soft and fully cooked, if not return to oven for further time, checking occasionally