Pineapple Upside Down Dessert
Pineapple Upside Down Cake has always been a favourite pudding in my family for many years and has always brought a smile when it is the answer to the question 'what's for pudding?' A very easy pudding recipe, made from ingredients you probably have already in your cupboard, so can be made on the spur of the moment.
A crowd pleasing dessert recipe, Pineapple Upside Down Cake is quirky, simple and delightful and a lovely, comforting pudding
Upside Down Cake History
The Upside Down Cake concept has apparently been around for a few hundred years – simply being that some fruit was added to the bottom of a pan and a cake batter on top to make a sweet pudding. There are probably many fruits you can do this with but somehow the pineapple seems the most popular. I guess it is robust enough not to go mushy in the sponge but hold its shape and texture.
Using pineapples became more popular with the advent of the tinned pineapple – and pineapple rings – in the early 1900s
Tinned Pineapple
Tinned fruit is a great resource and tinned pineapple is as tasty as fresh.
Pineapple rings are the best shape for this recipes, but it can be done with pineapple pieces too – or even chunks. Just place the chunks or pieces how you like on the cake – or make a pattern! I prefer the cans in natural juice, but any brand or type is still fine.
Tins of pineapple slices are still low cost making this a very economical pudding. Some supermarkets include pineapple pieces in there budget ranges – and I have always found these to be perfectly good.
This pudding is so easy – yet such a popular crowd-pleaser. The basic idea is that it is a basic cake recipe to which you add some pineapples in the bottom – so that they come out on top! It is great served hot with custard, cream or evaporated milk, but can also be eaten as a cake or popped into a lunch box.
More Dessert Recipes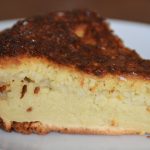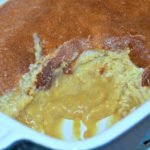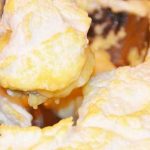 Pineapple Upside Down Dessert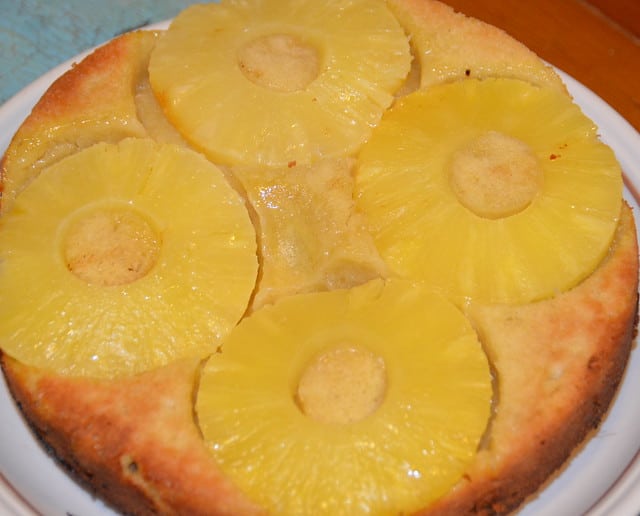 Serves 6
Ingredients
1 x 225g / 7 1/2 oz can

pineapple rings

2 tablespoons

of juice from the pineapple can

110g/ 4oz butter

or margarine

110g/ 4oz

sugar

2 eggs,

beaten

170g /6oz

self-raising flour
Cooking Directions
Preheat the oven to 180 degrees C
Grease an 18cm/7inch cake tin and line with baking parchment
Place the place 4 pineapple rings on the bottom of the tin
Reserve the juice
Put the butter, sugar, flour, eggs and 2 tablespoons of juice in a bowl
Beat with a spoon or in a blender until the mixture is smooth
Pour into the cake tin, ensuring the mixture is evenly spread
Bake for about 45 minutes
Turn out the cake onto a serving dish
Serve hot with custard, cream, evaporated milk or natural yoghurt