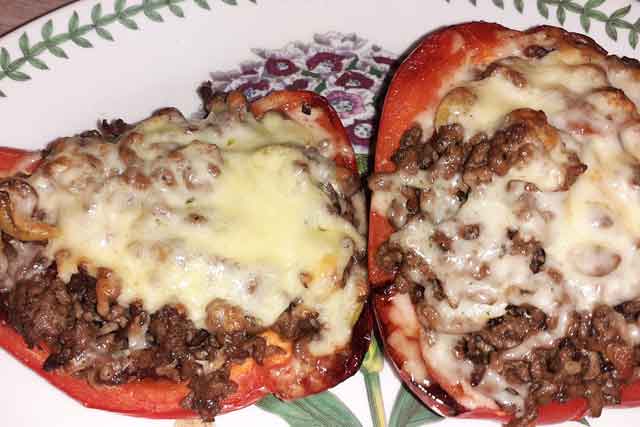 Peppers – Perfect For Stuffing!
Peppers surely were made for stuffing! You can stuff peppers with a variety of mixtures. Feel free to change the ingredients in this recipe with may be carrots, olives, sun dried tomatoes – anything that will go with a savoury mince type recipe
Stuffed Pepper Recipe
When stuffed peppers have been cooked in the oven, the flesh of the pepper goes sweet and soft and is absolutely delicious! And there are different colours to choose from! The red pepper is sweeter than the green pepper, and the yellow pepper is somewhere in-between. So choose which you like or try them all.
Stuffed Peppers with Mince, makes an easy, tasty and economical midweek supper
Buying Peppers
Peppers are available in the supermarket all year round but are in season in the summer and autumn months.They are now grown in the UK in glasshouses from March to November.
If you can get some local organic peppers, do try them, as they are often the best for flavour.
Mince Stuffed Peppers
You can stuff peppers with just about anything. Peppers are great stuffed with rice or couscous but this recipe for mince stuffed peppers is a favourite. You can vary the flavourings and add vegetables or nuts to the mix. Use the recipe as a basis to implement your own ideas and flavours.
More Stuffed Pepper Recipes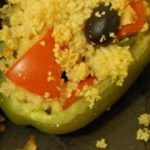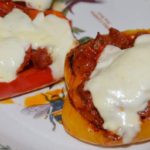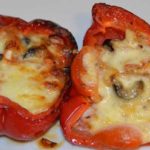 Serve with a leafy salad or your favourite cooked vegetable.
You will need a large frying pan, a cheese grater and a baking tray
Stuffed Peppers With Mince Recipe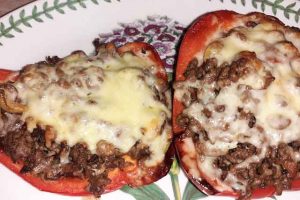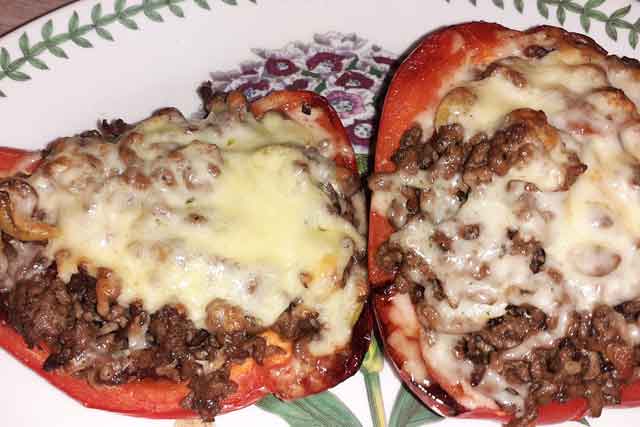 Serves 4
Ingredients
4

peppers – any colour, similar size

2 tablespoons

olive oil

1 onion

peeled and chopped

2

cloves garlic, peeled and sliced

500g / 1lb

lean mince

2 tablespoons

tomato puree

14oz / 400g

can tomatoes

55g / 2oz

frozen peas

1 teaspoon

mixed herbs

splash

worcester sauce

25g / 1oz

grated cheddar cheese
Cooking Directions
Preheat the oven to 180 degrees C

Prepare the peppers by cutting in half and removing seeds and pith
Place the peppers ion a large roasting tray and brush with olive oil
Roast for 15 minutes or until soft and beginning to char then remove from oven
Meanwhile heat the olive oil in a frying pan and gently fry the onions until soft
Add the mince and garlic and brown the mince
Add the tomatoes, tomato puree, worcester sauce peas and mixed herbs and stir
Cook for 20 minutes
Place the peppers skin side down on a baking tray
Fill each pepper with the mince mixture
Top each with cheese
Bake in the oven for 20 minutes
Serve with a mixed salad and crusty bread