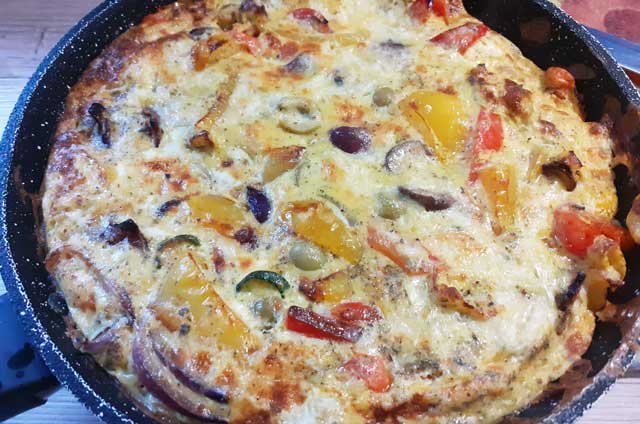 Easy And Delicious Egg Recipe
Frittata is a brilliant way to use up surplus eggs for a nourishing, quick and easy meal. It is so much more than an omelette!
This frittata recipe is made with one of my favourite ingredients – roasted peppers – with accompanying onion, courgette and olives. Add plenty of herbs and you have a lovely meal made in heaven. A good sprinkle of cheese on the top tops it off wonderfully!
Frittata is just the best sort of meal being quick and easy to make and totally delicious!
Easy supper Recipe
This is a good recipe when you haven't a lot of energy to cook. Just slice up the peppers, onions and courgette and pop them in the oven to roast for 20 minutes. Beat up the eggs and cream, and grate the cheese as soon as they are in the oven and then you can sit down for 15 minutes before it is all ready to come together!
Do season the egg well with mixed herbs or herb of our choice and plenty of salt and pepper. Good seasoning is the key to this meal.
Frittata or Omelette?
An omelette is an even quicker meal to prepare and of course you only cook one at time. The frittata is much thicker and in this case is a meal for four. It cooks slowly – you need to go gently so as not to burn the bottom. The cooking is then finished by grilling the top under a hot grill (although don't let the top of the pan get too close – you will need it to be 10-15cm away from the grill). the cheese on the top melts and you ensure the egg is cooked all the way through.
Plenty of Colour
In an ideal world use two different coloured peppers. If you use red and yellow, you will have those colours plus the green of the courgette and the black of the olives
Frying pan
You will need a large skillet frying pan that can take the heat of the grill
More Recipes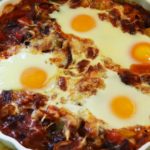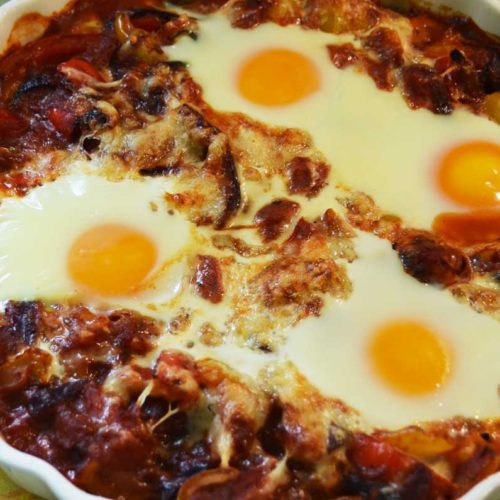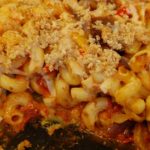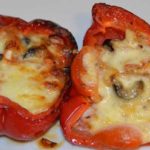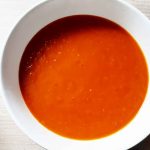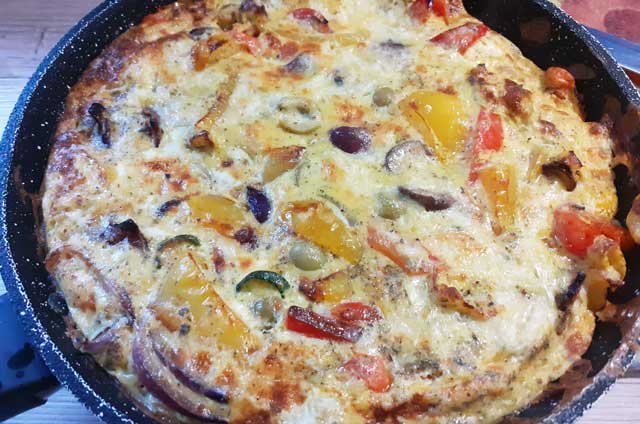 Roast Pepper Frittata
Deliciously easy supper recipe with the full flavour of roast peppers
Ingredients
8

eggs

200

ml

single cream

or milk

2

tablespoon

olive oil

25

g

butter

2

peppers

1 yellow, 1 red, deseeded and sliced

1

large red onion

peeled and chopped

1

medium

courgette

sliced

20

olives

1

teaspoon

dried mixed herbs

Large handful

grated extra mature cheddar cheese
Instructions
Preheat the oven to 180 degrees C

Place the sliced peppers, onion and courgette on a large baking dish

drizzle with the olive oil and turning with a spoon to ensure even coating

Place in the oven for around 20 minutes

Meanwhile, crack the eggs in a bowl and whisk together

Add the cream, herbs and salt and pepper stir well

When the vegetables are ready melt the butter in a large skillet

Add the the vegetables and the olives and pour in the egg and cream mix

On a medium heat keep allowing the egg liquid underneath as the frittata cooks

When it is quite cooked turn on the grill in the oven to maximum

Sprinkle cheese on top

Place the pan under the grill and watch the cheese melt and the top brown slightly

Serve immediately