Meatloaf For A Sunday Roast
If you want a Sunday dinner but don't want to spend out on an expensive joint of meat, or if you fancy a roast dinner mid week, this meatloaf recipe is the perfect solution. Served with all the trimmings such as roast potatoes, parsnips, stuffing and Yorkshire pudding, you will hardly notice it isn't a joint of meat!
It is also a very easy way to cook minced beef. It even takes less preparation time than Spaghetti Bolognese or Chilli Con Carne. It just requires 5 minutes preparation and then cooks in the oven for an hour while you can get on with something else
Low cost, delicious alternative to a joint of meat for Sunday dinner, or an easy midweek family supper
Meatloaf With Roast Vegetables
You can use the oven to do baked, or roast potatoes and other roast vegetables to go with the meatloaf. You could even pop in a pudding too such as Apple Crumble or Eve's Pudding.
It makes a really easy meal. Some meatloaf recipes suggest you cook the onions and carrots first before combining it with the meat. However I don't find this necessary. If you chop it up small, it cooks well within the meatloaf.
You can use this recipe as a guide but make your own changes to seasoning or the vegetables you add to the meatloaf. Add a bit of cumin and coriander for a spicy flavour. Add some chilli powder to heat things up a little! I have also added oats to the mixture as these make the meatloaf go a bit further and it will feed up to 6 people.
This recipe will work well with lamb mince too. Just alter the amount of stock to get the right texture and may be add a little mint too!
I have added small amount of stock, just to ensure the loaf is moist enough. You may need to adjust the amount so it is best just to put in a little at a time and then stir. The mixture needs to be solid enough to form into a loaf shape. Once formed it will stay in that shape.
Do place it in a baking dish or roasting tin rather than on a baking sheet as it will ooze some juices.
Serves 4-6
Easy Meatloaf Recipe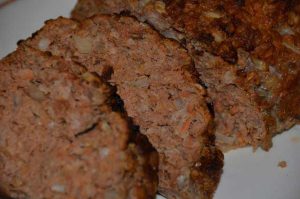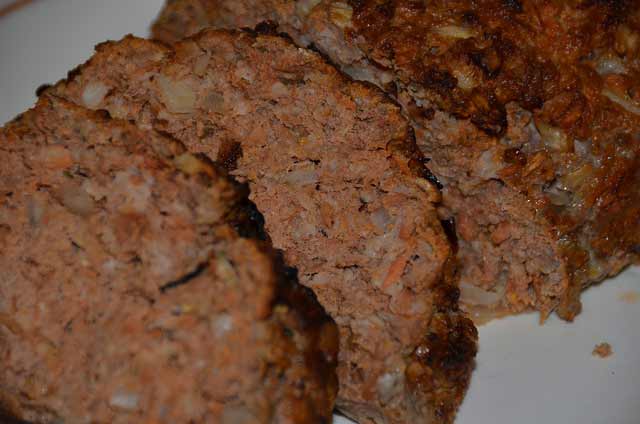 Ingredients
500g / 1lb

beef mince

1 small

onion, peeled and finely chopped

1 medium

carrot, peeled and grated

1 tablespoon

tomato puree

2 cloves

garlic, peeled and crushed

1 teaspoon

worcester sauce

1 teaspoon

black pepper

150ml

stock

1

egg, beaten

85g / 2oz

oats
Cooking Directions
Preheat the oven 180 degrees C
Place the beef mince in a large mixing bowl
add the onion, garlic, grated carrot and mix well
Add the herbs, tomato puree and worcester sauce
Add the oats
Add the stock, a little at a time
Season with pepper
Stir in the egg to bind all the ingredients
In a roasting tray or baking dish form into a loaf shape
Bake for about 1 hour until brown on the outside
Serve in slices with vegetables and gravy